Quote of the moment: "Among the many misdeeds of British rule in India, history will look upon the Act depriving a whole nation of arms as the blackest." - Mohandas Gandhi, an Autobiography, page 446.
MOST RECENT UPDATES:
---
Wednesday, February 6, 2013 - Added "Well that took long enough" to Radio Matters.
---
Tuesday, February 5, 2013 - Added to the Who is page.
---
Saturday, January 26, 2013 - Where was the outrage over April 19, 1993? Why weren't Bill Clinton and Janet Reno held accountable by being tried, convicted, sentenced, and executed?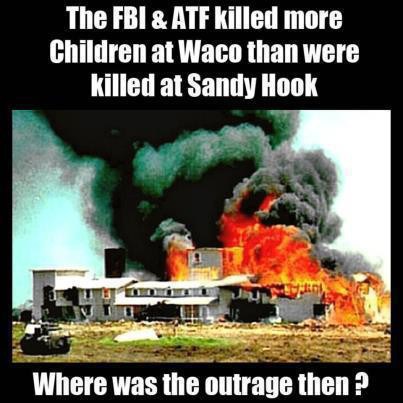 For clueless twenty-somethings mumbling "Waco?": edify yourselves.
Credit: image from and a hat tip to Live from the Alamo City.
---
Sunday, December 30, 2012 - DIVEST FACEBOOK AND FUCK MARK ZUCKERBERG. In case you missed or thoughtlessly passed over this, Facebook bans Gandhi quote as part of revisionist history purge. Click the link. Read the article. Think.
Though Zuckerberg and Facebook are entitled to set whatever user aggreement they wish, their feet should be held to the fire for as much as shitting on the Bill of Rights to the U.S. Constitution with their blatant censorship.
And though The People have the right to click "I agree" to whatever user agreements they wish, when doing so supports a social media business which shamelessly limits Freedom of Speech, then The People should revolt. Hard!
Send FB into the shitter. Cancel your Facebook accounts. Divest. Speak out.
---
Saturday, November 17, 2012 - The sham of an RNC changed rules mid-convention, much to the dismay of Ron Paul delegates, and nominated a RINO. And the Republican's RINO nominee lost to the democRATS' Marxist-Muslim-usurper in the national election.
God help us all!
In other news, I've returned to ham radio: a longtime hobby of mine from which I had been on an unplanned, extended vacation. It's great to be home again. Expect several new updates in the Radio Matters area in the near future. Of course, updates will be announced here.
---
Wednesday, September 5, 2012 - STOP THIS PLANET! I want off!
And here's why.
---
Monday, May 28 - Memorial Day, 2012 - RIP, fallen heroes.
Updated Quote of the Moment on this page, and added this to the Overheard page.
---
Friday, May 11, 2012 - The things we hear. Yeesh! Updated Overheard.
---
Sunday, April 1, 2012 - Updated the Broadside and Overheard pages.
---
Friday, January 20, 2012 - SOPA and PIPA FUCKING SUCK! And so does ANY member of congress who supports that Orwellian, without due process legislation. DONKEY PUNCH THE BITCHES. HARD! Then fuck them with rusty framing hammers. Deep. And at an angle.
UPDATE: Congressmen Who Received Money for SOPA Vote
---
Sunday, January 1, 2012 - Happy new year. Here's hoping 2012 surpasses your wildest expectations.
---
Saturday, December 31, 2011 - On this last day of year, added to the Bookshelf page.
---
Sunday, December 25, 2011 - Merry Christmas, happy Hanukkah, peace on Earth, goodwill to men, and remember the reason for The Season.
---
Friday, December 9, 2011 - Though the file has been sitting on the website since October 2009, I just realized it was never "announced" along with the other product reviews that had been. So without further ado and if you're so inclined, check out the review written for QST Magazine on the Mosley TA-53-M multiband Yagi antenna.
---
Saturday, November 12, 2011 - Yes, I survived the Great October Snowstorm of 2011. No, it wasn't much fun or very pretty. Details at a later date - maybe. Until then, check out Overheard for an Eagles Before They Sucked update and linkage for some related eye and ear candy.
---
Saturday, October 15, 2011 - Changed this page's Quote of the moment. Updated Quotes page accordingly.
"What's new" YEARLY ARCHIVES - 2009 2008 2007 2006 2005 2004 2003