"Ellsbury would have signed with North Korea if they offered the most money." - a tweet by Scott Lauber of the Boston Herald on Jacoby Ellsbury leaving the Red Sox for the Yankees
MOST RECENT UPDATES:
---
Wednesday, March 19, 2014 - Added a new entry to Overheard.
---
Wednesday, January 1, 2014 - Here's your perfunctory happy new year wishes for 2014, one of the more bullshit "holidays" celebrated by many around the world. You can bah humbug Christmas, but for me, I'll celebrate the birth of Christ. You can celebrate the second hand sweeping across the 12 of a clock on just another day.
---
Wednesday, December 25, 2013 - Here's wishing you and yours a merry Christmas. Please remember the reason for the season. And give yourselves a break today and skip checking out the Drudge Report or other online time sinks. Instead, spend your time with family and friends.
---
Saturday, December 21, 2013 - I just had a wonderful experience that's worthy of sharing. Check out Goodwill Towards Men.
---
Wednesday, December 4, 2013 - Well, it's done! My 2014 Adirondack vacation plans are on more solid ground. Yesterday morning I reserved a primo campsite at Eigth Lake Campgrounds on the water! That way my faithful boat, The Arturo, will be right at my site and ready for fishing adventure.
It's a great site and as I remember, there are some trees that should provide interesting antenna possibilities for planned WN1MB/2 operations.
I'm both excited and relieved. One less thing to worry about. The site is reserved, paid for, and I can't wait for September 2014!
Still working on the Field Day 2013 report. Should be online soon.
---
Monday, October 14, 2013 - I'm sick and fucking tired of all the talk about sequestration, government shutdowns, budgets, and especially "raising the debt ceiling." Excuse me? Debt "ceiling?"
It's not a "ceiling" at all. Debt is a hole. And those dirty bastards in Congress who refuse to present a budget, let alone a balanced budget, can't control their spending habits, so they want to dig the nation's debt ditch even deeper - all under the guise of merely "raising a ceiling."
You want to know what I'd like? I'd like to see Geitner, Bernake, Lew, Greenspan, Yellen, Kim, and Lagarde all waterboarded to extract exactly what the fuck is going on with the U.S. and world financial situation. And if one or more dies during interrogation?
Too. Fucking. Bad.
---
Saturday, September 21, 2013 - Just a couple of things from collected notes:
While on an impromptu smoke break at work at about 3 A.M. on the morning of the 17th, I noticed Orion rising in the eastern sky for his annual winter visitation. It was Curt Holsopple, K9CH, a co-worker at ARRL, who pointed out Orion to me when about all I knew about the night sky was the Moon and the Big Dipper. Ever since then, I've both enjoyed Orion's return to the northern latitudes and saddened when Orion heads south.
The Harvest Moon was strikingly beautiful on the night of the 18th.
I don't know ...
... whether this is a particularly bright moon, or
... if it's due to finally having a new pair of glasses built upon a fresh prescription, or
... because the air is especially clear, or
... if it's due to some combination of the above.
Of particular note was how distinct and defined the Moon shadows were. It was quite amazing.
Spent about four hours fishing on the 18th. It was rather slow, though I did manage to haul in a rock bass, blue gill, perch. and rainbow trout.
An added bonus was seeing one of our resident Bald Eagles fly by twice. The second pass was extra special for a couple of reasons. The Sun's light was a just the right angle to really highlight the white feathers on the eagle's head. And pass number two was quite a bit closer than pass one. Of course, in retrospect, the new glasses helped, too.
Regardless, what a magnificent creature!
---
Saturday, September 14, 2013 - Having successfully navigated through 24 hours of another Friday the 13th, it's time for a bit of an update.
On Monday I returned from a week of camping in NY State's Adirondack State Park: a six million acre nature preserve. To put things in perspective, that's a land area just a bit larger than the entire State of Massachusetts! It was a long overdue and much needed vacation week away from the noise, dirt, dust, and politics of the factory floor. It's hard to imagine a more polar opposite environment.
Conventional fishing was punk at best, so another form of "fishing" was employed - that being fishing for contacts with the Ten Tec Argonaut 505.
More to follow.
---
Tuesday, July 2, 2013 - Well, it's done. Over. Finished. No, not another marriage, but still a relationship of sorts.
In August of 2008, I switched the operating system on my computers from Puppy Linux to Arch Linux. And for the vast majority of the time since then, Arch had served me well, being both rock solid and fast. Some of the Arch devs recently decided to switch over to both grub2 and systemd - changes in and of themselves being perfectly fine. However...
In the opinion of many, including me, the documentation to affect this switch on existing systems was sloppy at best and convoluted at worst. So instead of fighting with both the poor documentation and arrogant "helpers" on the distribution's forum, it was time to bid adieu to Arch Linux.
The main, workhorse computer here is now running Debian "Wheezy." And it's wonderful. It's stable, albeit noticeably less snappy than Arch, but serves my needs thus far quite well.
There are a couple of things I'm working on for the website that I hope to get posted soon - perhaps over the long, holiday weekend.
---
Wednesday, February 6, 2013 - Added "Well that took long enough" to Radio Matters.
---
Tuesday, February 5, 2013 - Added to the Who is page.
---
Saturday, January 26, 2013 - Where was the outrage over April 19, 1993? Why weren't Bill Clinton and Janet Reno held accountable by being tried, convicted, sentenced, and executed?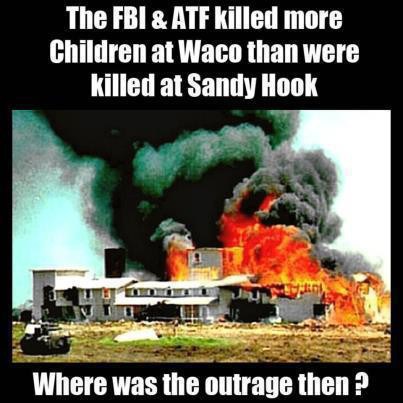 For clueless twenty-somethings mumbling "Waco?": edify yourselves.
Credit: image from and a hat tip to Live from the Alamo City.
---
Sunday, December 30, 2012 - DIVEST FACEBOOK AND FUCK MARK ZUCKERBERG. In case you missed or thoughtlessly passed over this, Facebook bans Gandhi quote as part of revisionist history purge. Click the link. Read the article. Think.
Though Zuckerberg and Facebook are entitled to set whatever user aggreement they wish, their feet should be held to the fire for as much as shitting on the Bill of Rights to the U.S. Constitution with their blatant censorship.
And though The People have the right to click "I agree" to whatever user agreements they wish, when doing so supports a social media business which shamelessly limits Freedom of Speech, then The People should revolt. Hard!
Send FB into the shitter. Cancel your Facebook accounts. Divest. Speak out.
---
Saturday, November 17, 2012 - The sham of an RNC changed rules mid-convention, much to the dismay of Ron Paul delegates, and nominated a RINO. And the Republican's RINO nominee lost to the democRATS' Marxist-Muslim-usurper in the national election.
God help us all!
In other news, I've returned to ham radio: a longtime hobby of mine from which I had been on an unplanned, extended vacation. It's great to be home again. Expect several new updates in the Radio Matters area in the near future. Of course, updates will be announced here.
---
Wednesday, September 5, 2012 - STOP THIS PLANET! I want off!
And here's why.
---
Monday, May 28 - Memorial Day, 2012 - RIP, fallen heroes.
Updated Quote of the Moment on this page, and added this to the Overheard page.
---
Friday, May 11, 2012 - The things we hear. Yeesh! Updated Overheard.
---
Sunday, April 1, 2012 - Updated the Broadside and Overheard pages.
---
Friday, January 20, 2012 - SOPA and PIPA FUCKING SUCK! And so does ANY member of congress who supports that Orwellian, without due process legislation. DONKEY PUNCH THE BITCHES. HARD! Then fuck them with rusty framing hammers. Deep. And at an angle.
UPDATE: Congressmen Who Received Money for SOPA Vote
---
Sunday, January 1, 2012 - Happy new year. Here's hoping 2012 surpasses your wildest expectations.
---
Saturday, December 31, 2011 - On this last day of year, added to the Bookshelf page.
---
Sunday, December 25, 2011 - Merry Christmas, happy Hanukkah, peace on Earth, goodwill to men, and remember the reason for The Season.
---
Friday, December 9, 2011 - Though the file has been sitting on the website since October 2009, I just realized it was never "announced" along with the other product reviews that had been. So without further ado and if you're so inclined, check out the review written for QST Magazine on the Mosley TA-53-M multiband Yagi antenna.
---
Saturday, November 12, 2011 - Yes, I survived the Great October Snowstorm of 2011. No, it wasn't much fun or very pretty. Details at a later date - maybe. Until then, check out Overheard for an Eagles Before They Sucked update and linkage for some related eye and ear candy.
---
Saturday, October 15, 2011 - Changed this page's Quote of the moment. Updated Quotes page accordingly.