Adirondack Vacation 2014
this year's weeklong escape from the madness
"OMG. Was visiting ADK last night. At work. Necessary mental diversion. Sanity restoration." - from a note written at work.
There were many nights at work over the past year when I took brief imaginary visits to the Adironacks. The visits were a counterbalance of sorts to the harsh lights, dust, dirt, heat of the furnaces, and unrelenting pounding of the presses. And it had been a long year since vacation 2013.
So on the morning of September 2, I was more than ready to get out of Dodge for a week in the wilderness.
After an unexpected one hour delay in departure, I made excellent time from home to the Adirondack park - a journey of just over 200 miles. Here's a screenshot my friend Sharie got off an Internet webcam of the faithful PT Cruiser and Arturo duo. This year the W.W. Durant was out on a cruise when I arrived.
I'm the guilty party who "MTPainted" in that cheesy red arrow. My motives were honorable.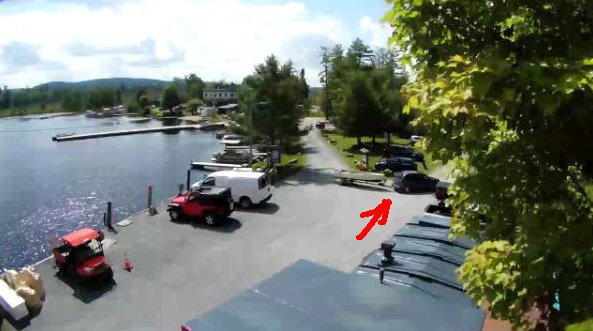 Screen capture - Sharie Cohen
And this is where I was parked: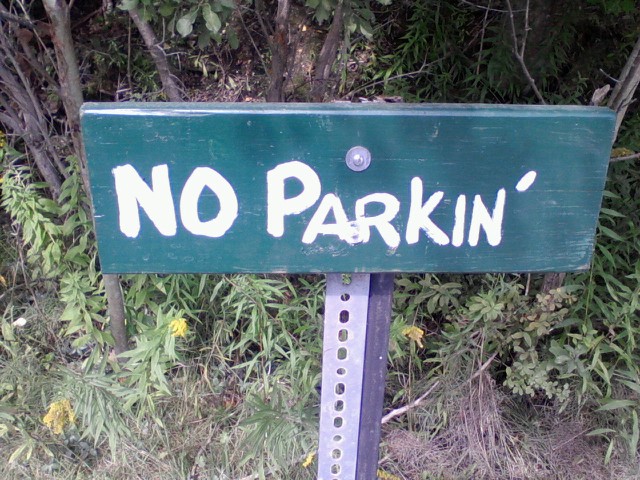 Reserving a campsite ahead of time was a smart thing to do. Timing was right and I was able to secure waterfront site 114 at Eighth Lake Campgrounds for the vacation days I had set aside. My parents had camped at 114 before, though I never had visited them there. However, last year I met an interesting couple, Witold and Krystyna Bujak, who were at 114, so I remembered it as being one of the good sites.
Well, the site turned out better than both remembering and imagining it!
My SOP upon arrival is to first erect the tent, load the erected tent with "tent stuff", then get a shed tarp over the picnic table. This year that SOP proved invaluable, because no sooner had I moved tent essentials into the tent and table essentials onto the tarp sheltered table, it started raining. Hard. "Adirondack dew" as Uncle Bob would say.
Here's this year's requisite shot of the tent - a good, old, reliable Coleman product: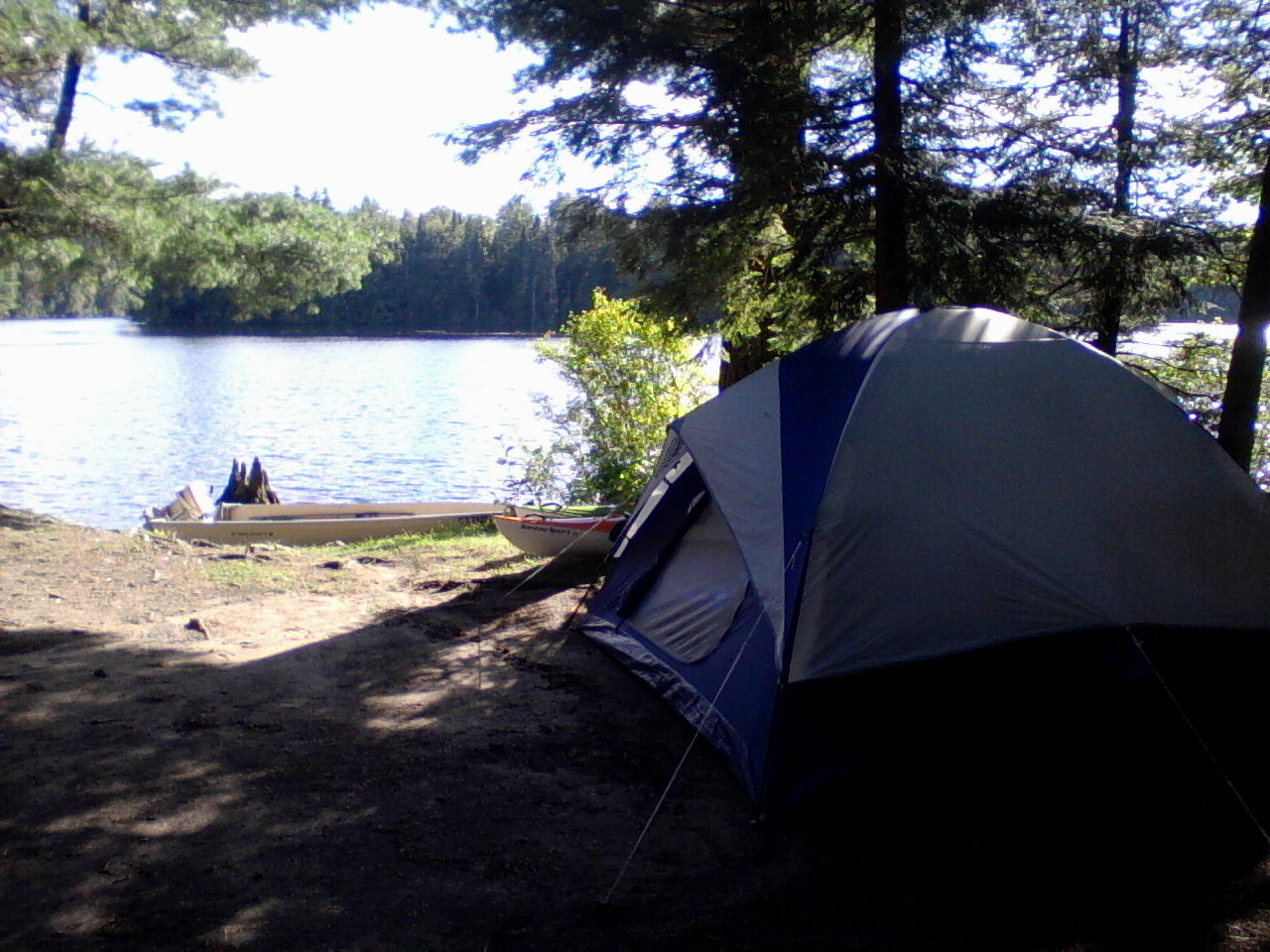 And here's that all important center of camping operations: the picnic table!
Yep - essentials. Firewood, coffee pot, coffee mug, ham radio gear, tobacco, ash tray, Thermos bottle, Grundig radio, dishes, cooking stuff, travel mug, seat cushion, tackle boxes, fishing poles, hiking stick, hatchet, hammer, and Swedish saw. Essentials.
Some "natives" decided to greet me. These guys were regular visitors to my site, and I suspect many other sites. Contrary to popular belief, they're not Adirondack Goodwill Ambassadors: they're just looking for an easy, free meal. I didn't feed 'em. I know how that works out.
I stuck out my foot to show just how close they were. Of course, the one that was closest suddenly moved away when I extended my hoof. You get the idea, though.
Another native, though only distantly related to the ducks. This neighbor lives in a huge nest atop an old, dead tree on the edge of a cove adjacent to the campgrounds. And he's much more proficient at fishing than I am!
Good friends and camping regulars Nina and Joe, from Oneida, NY, were out in their kayaks and spotted this beautiful osprey. Nina was fortunate to have her camera at-the-ready and blessed to get such an awesome shot.
This one's a "click to enlarge," for certain!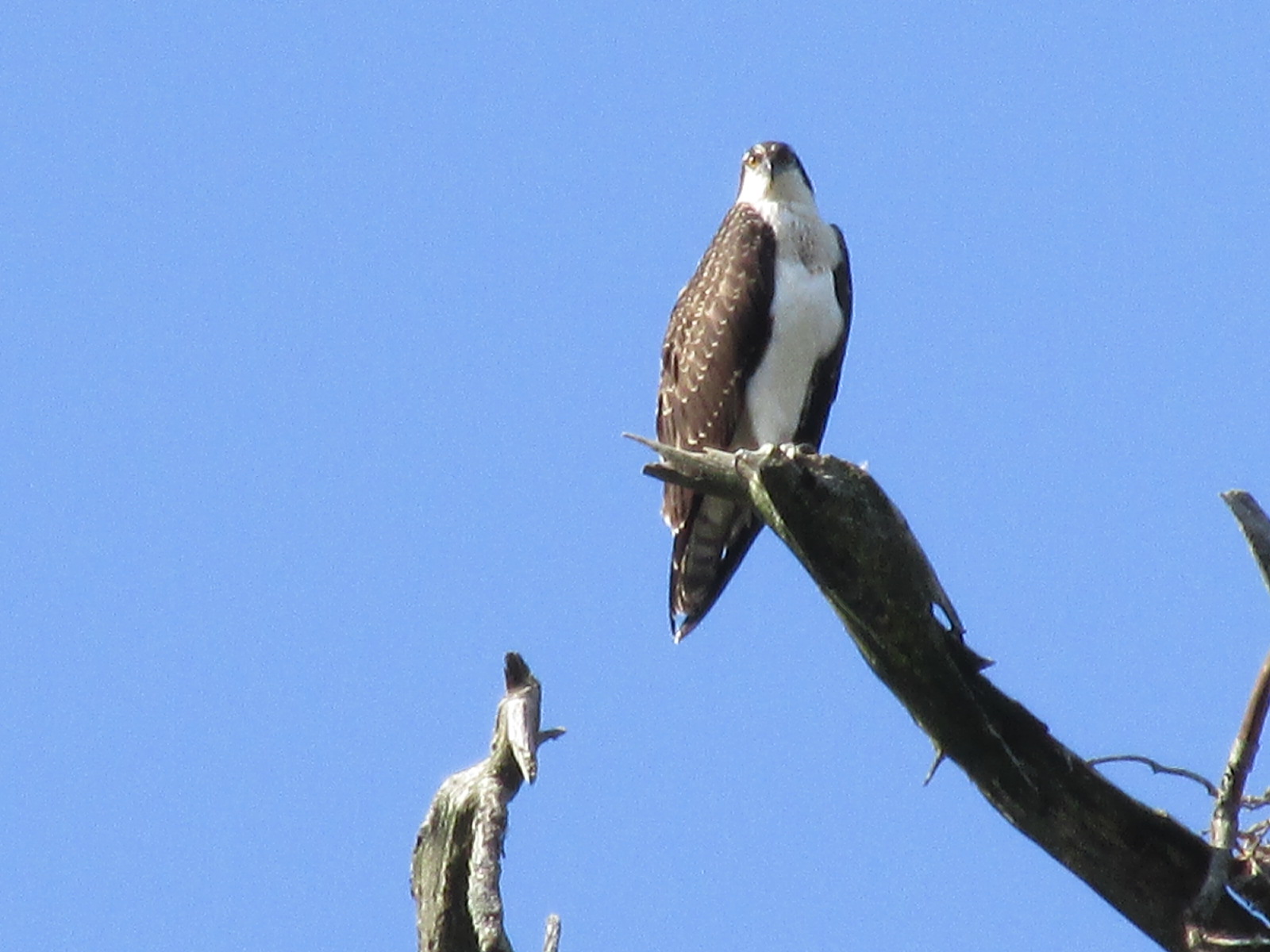 Photo by Nina Karhnak
I'm a sucker for photos of shorelines or looking out onto or across bodies of water. But in my world, one integral part of camping in the Adirondacks is to sit by the shoreline and gaze out at the beauty that is the Adirondacks. Here are some shots of the wonderful view from site 114.
Daylight is nearly done in this one as the shadows draw longer and longer. The mountain in the center that starts to rise towards the right I call Mom's Weather Mountain, as she'd look that way in the morning and predict the day's weather. Upon consulting a map, it's also known as Seventh Lake Mountain.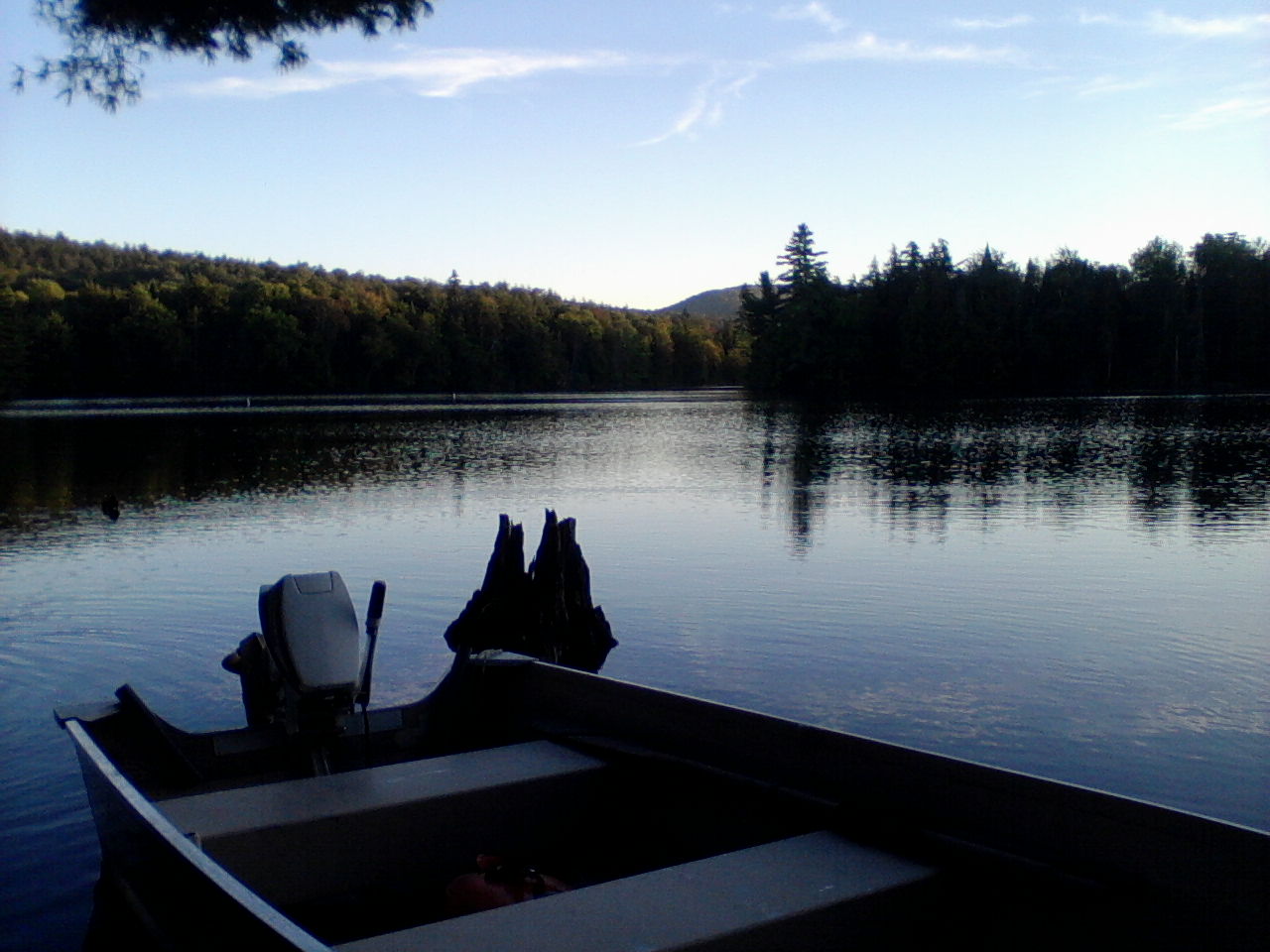 This shot is looking more westerly and into the larger area of a cove that kinda/sorta connects Seventh and Eighth Lakes.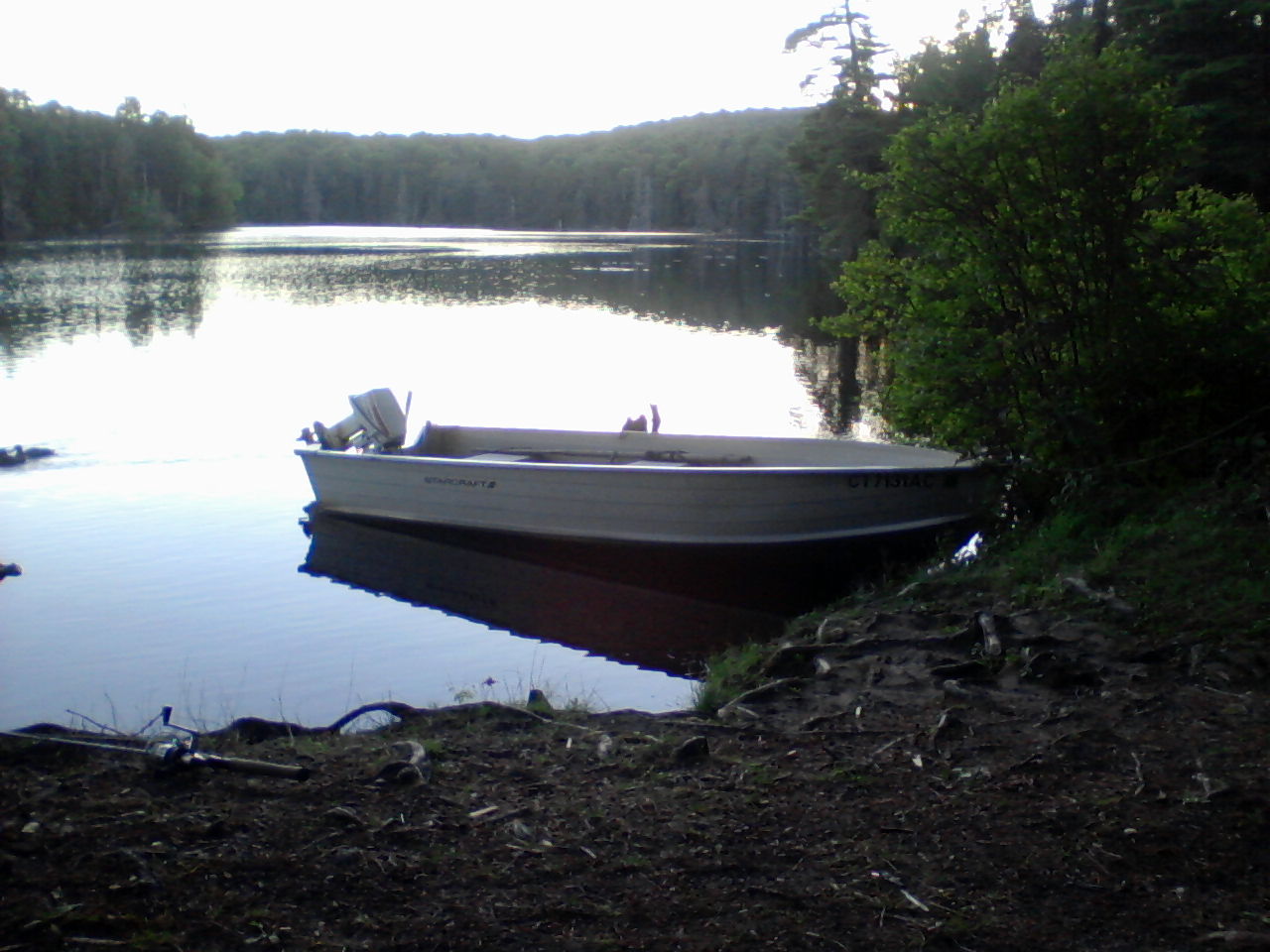 My best shot of the cove. Check out the mirror image on the still water. This vantage point is looking from the picnic table. With a view like that, it's so easy to simply:
Sit. And. Gaze.
...which I did. Frequently. It was vacation, after all. And I'm happy to report that the view never got tired nor worn out.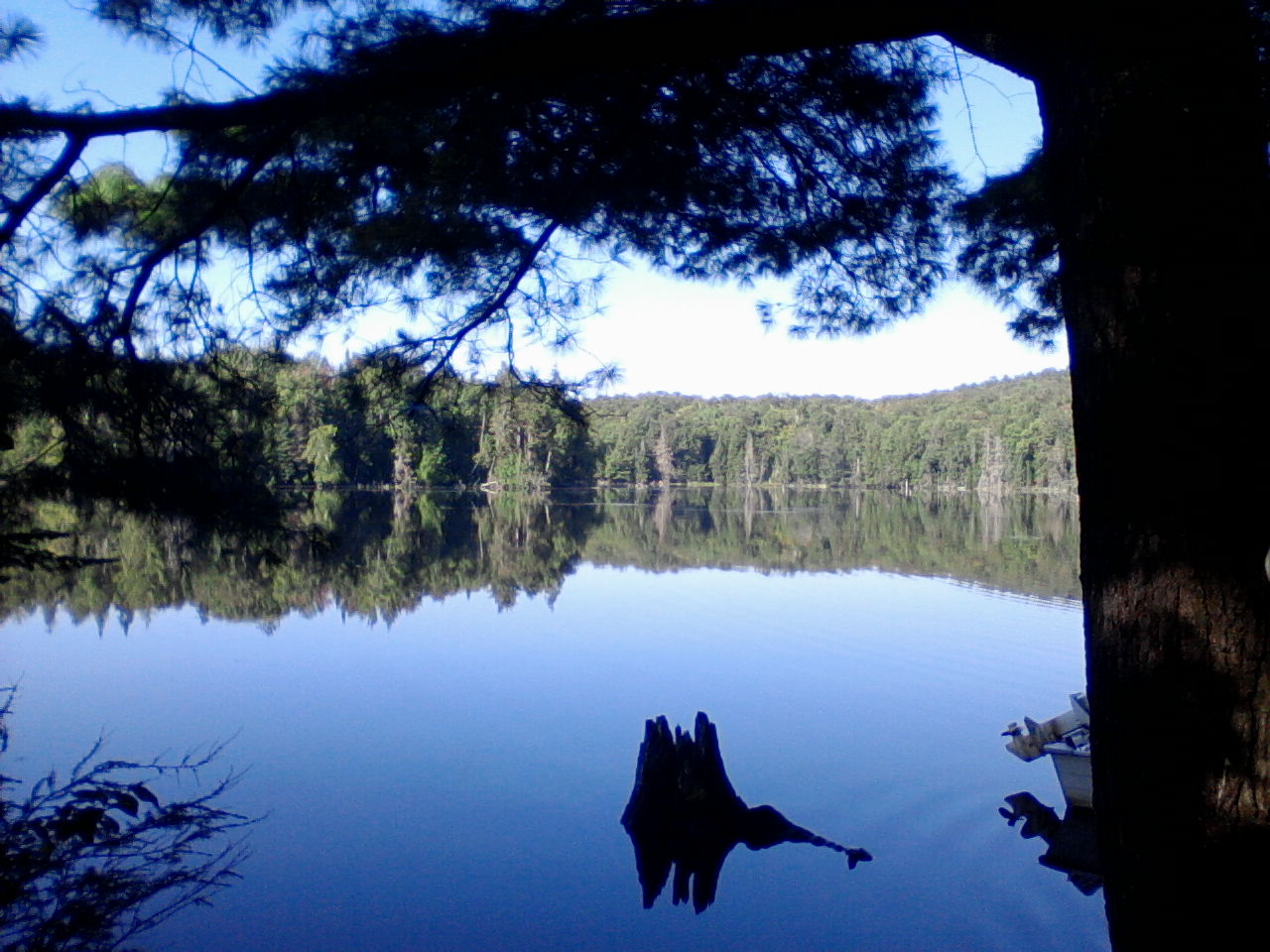 The following two pictures were taken in the morning just after the night's lake fog had cleared.
Looking towards the channel (or flow) that leads to the big section of Seventh Lake. Mom's "Weather Mountain" is still shrouded in a cloud formed by the rising lake fog. It was an interesting experience watching the process of lake fog rising, clouds forming, and utimately dispersing into the morning sky.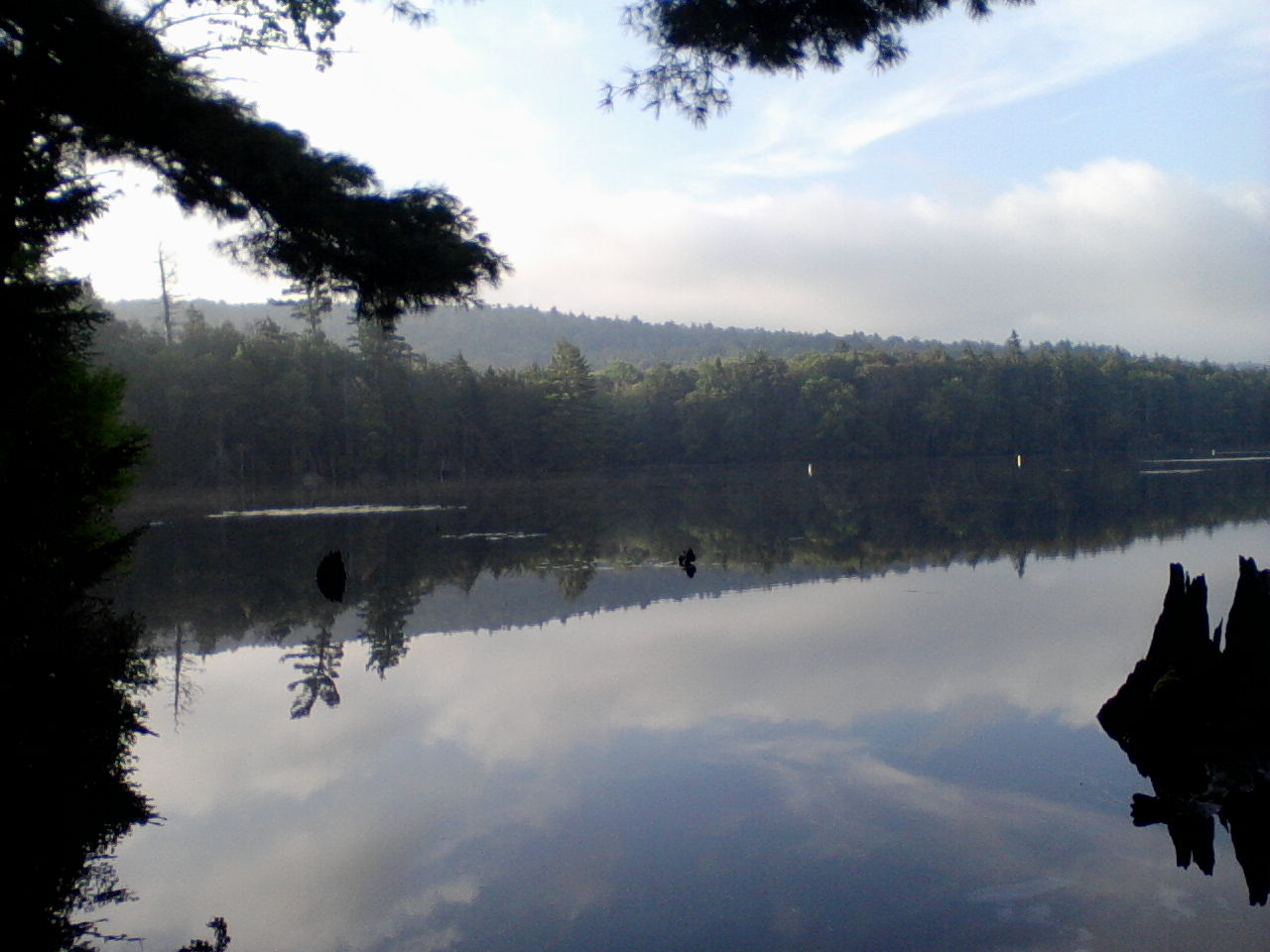 And the view into the cove at roughly the same time.
The tall tree right on the water's edge was a morning perch for what I believe was a raven. Though he looked like a crow, he was considerably larger than any crows I've ever seen. And he had a much deeper guttural sound to his calls, distinctly unlike the "cahw-cahw-cahw" of crows I've heard.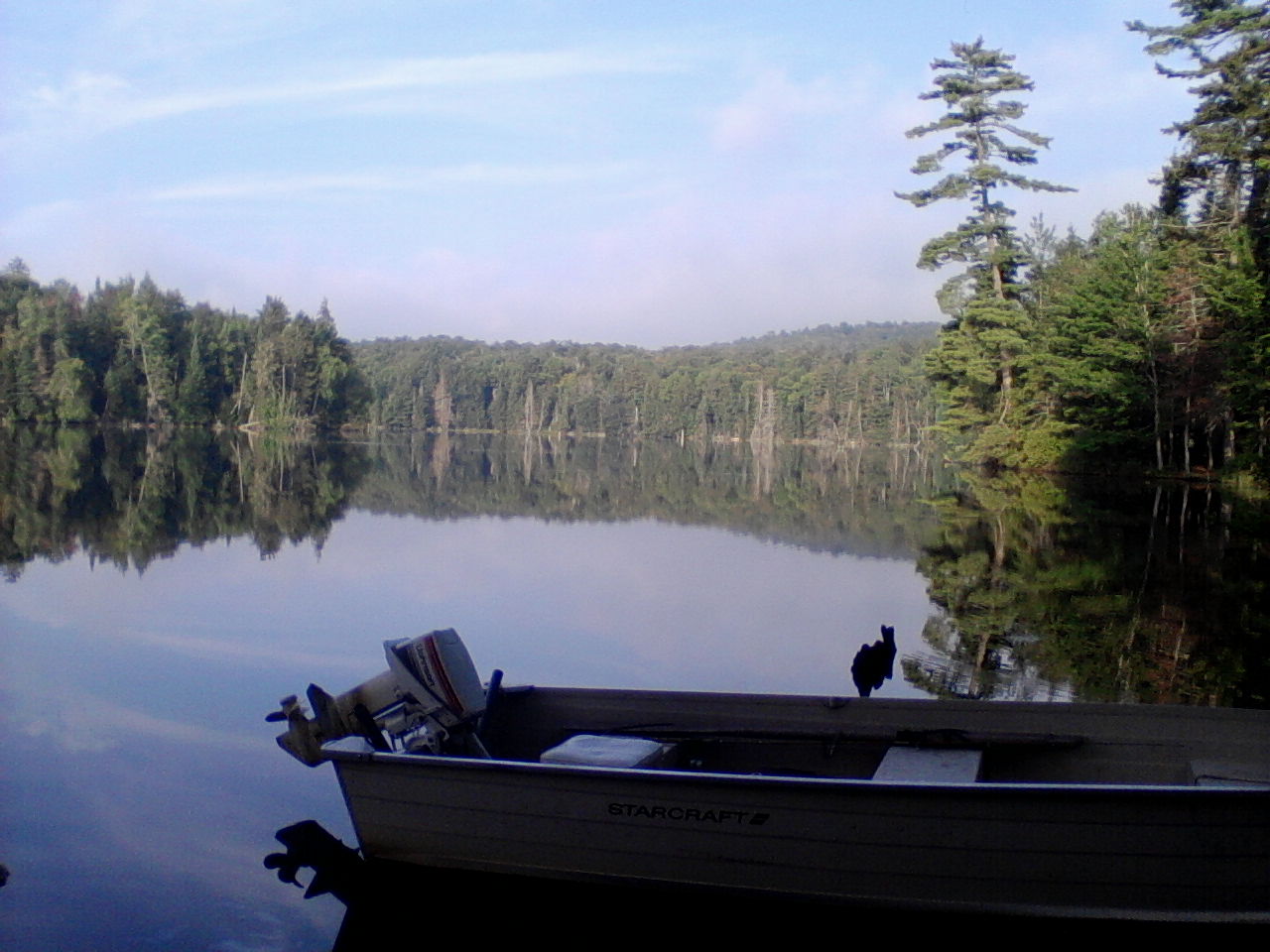 Contrast in colors.
Here are three shots of some plant life on the forest floor by the shoreline of the cove. Incidentally, all three were photos were taken standing in the same spot.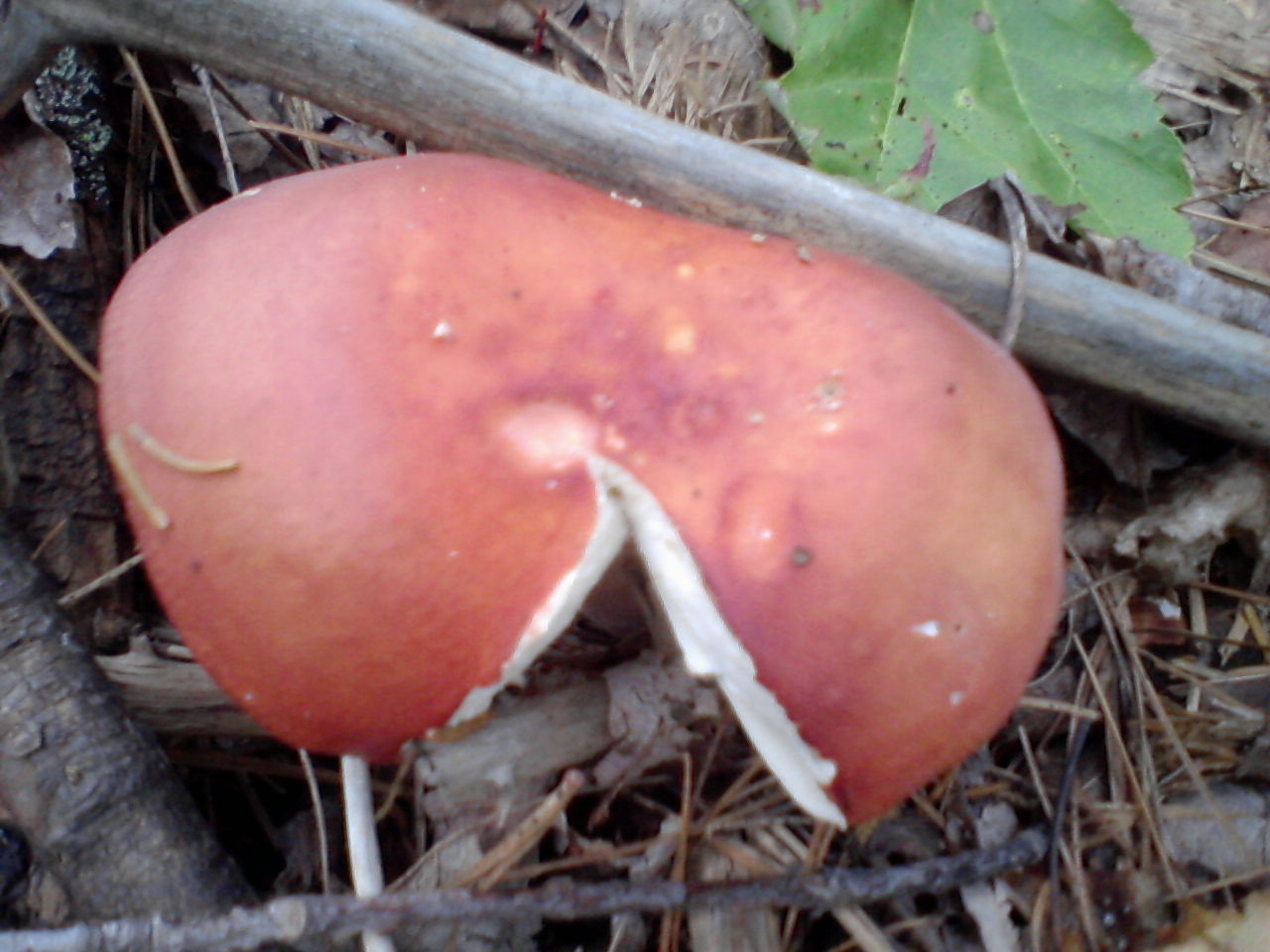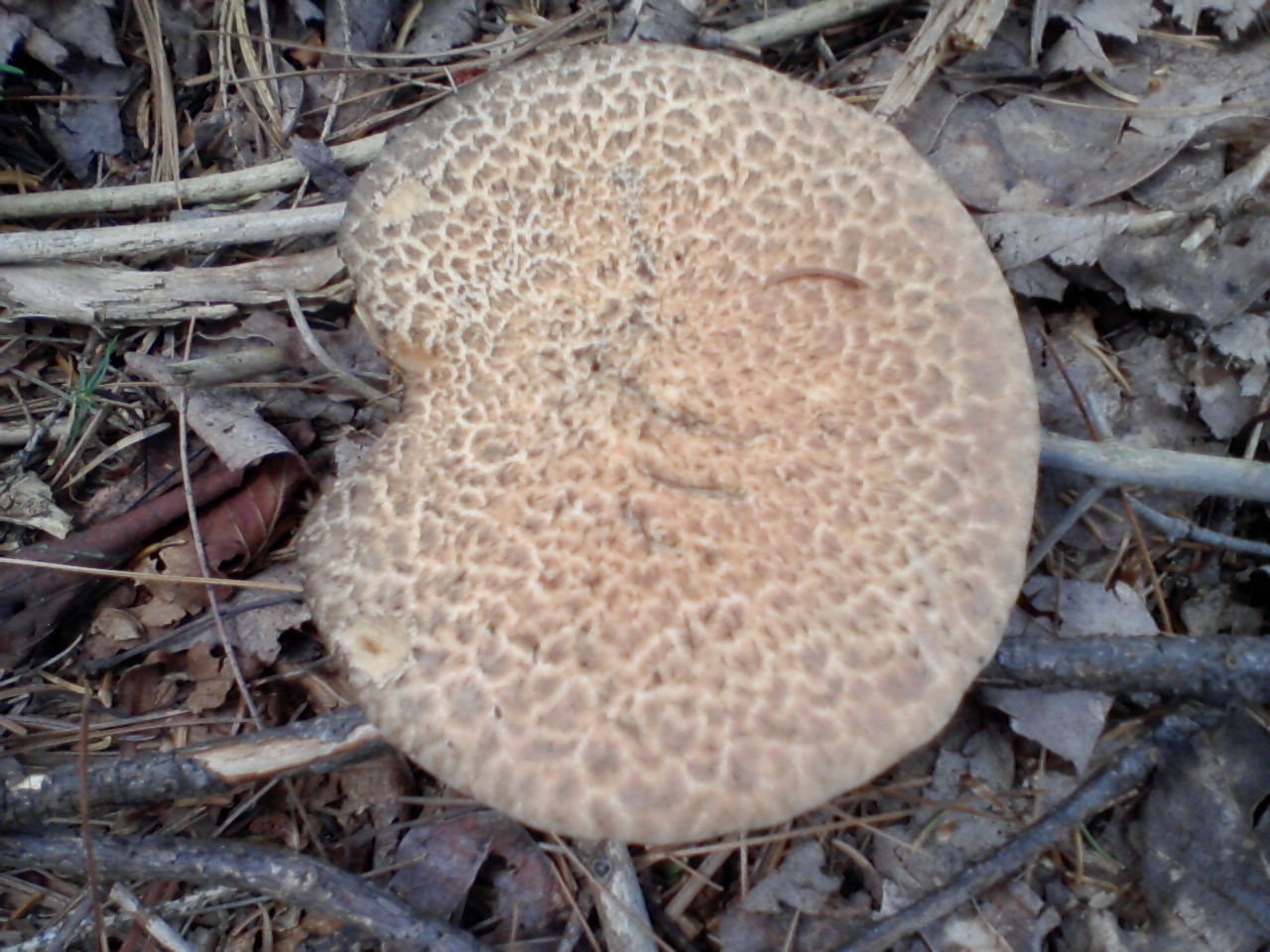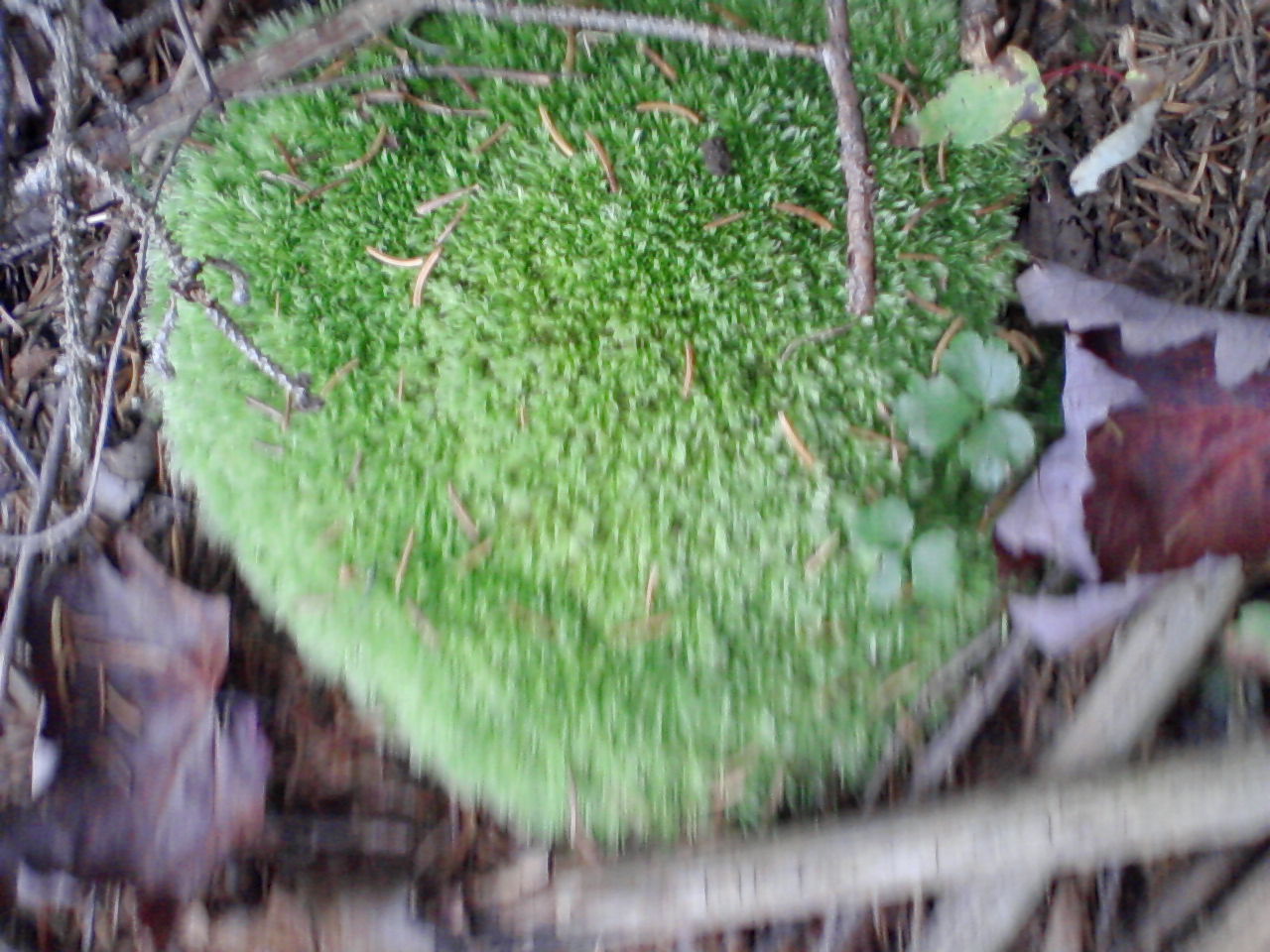 An old, weathered trunk of a long fallen tree in the woods by the cove has also become a measuring stick of sorts for someone named Megan and her siblings. The story told by this tree trunk indicates that Megan's family have been regulars at Eighth Lake Campgrounds for many years.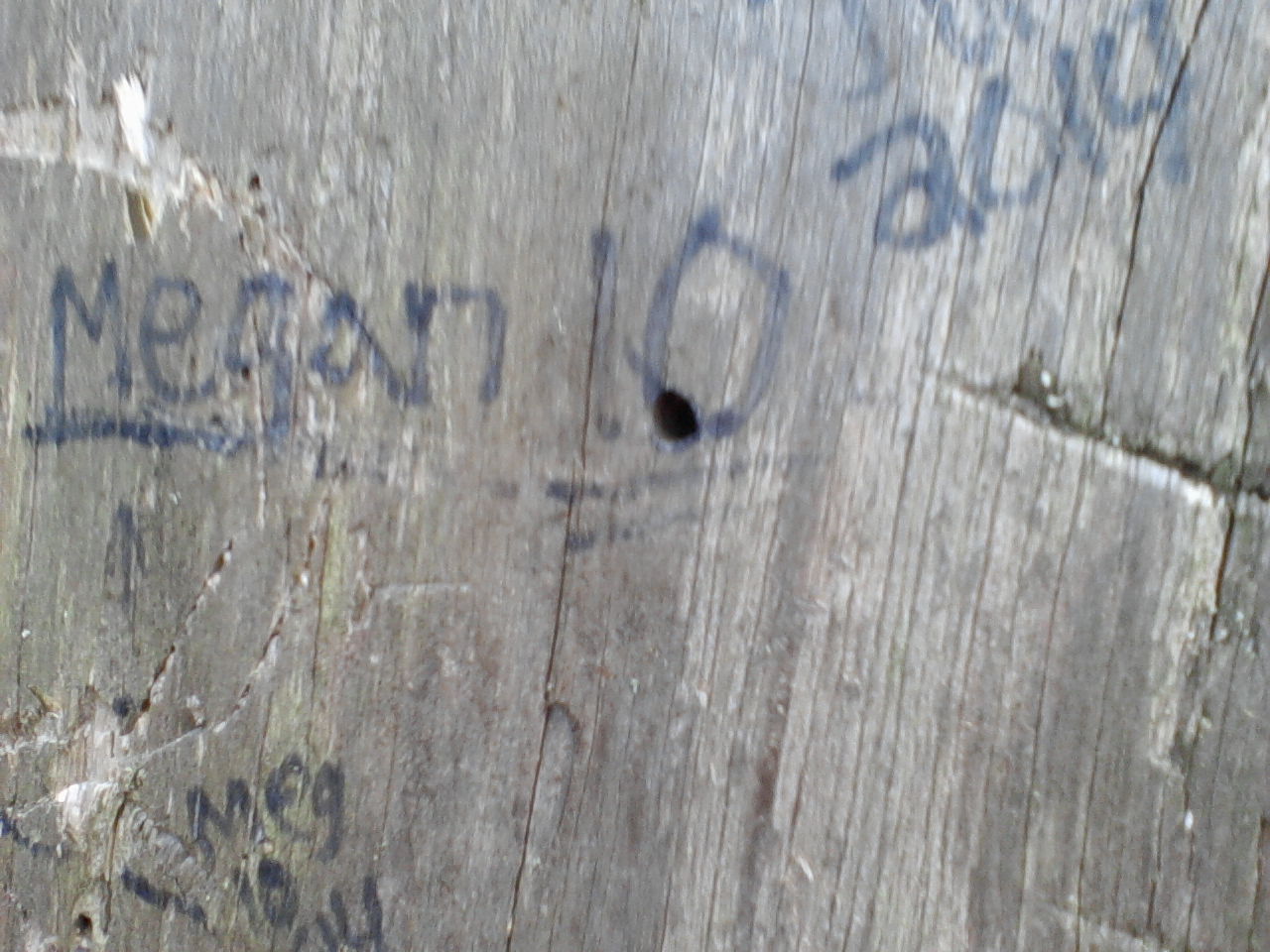 Fishing was much better than in 2013. Though I caught only one trout deep trolling Seventh Lake, I did catch a mess of rock and smallmouth bass.
One late afternoon, camping neighbor Ray and I went fishing. We anchored and fished the much touted rocky, north shore of Seventh Lake in search of big bass, only to get snookered. Then we moved to the south shore of Goff Island - again, no luck. Trolling deep water for trout also proved futile, as did fishing off the sand bar.
It was getting late and running the unlit channel buoy gauntlet after dark was deemed not very smart. We moved to a spot just "around the corner" from the campground. Ray caught a few rock bass and had one monster hit, which he unfortunately missed. I was having no luck casting the structure around the shore of the island with my lucky rubber worm, so on a whim switched to casting the channel with my normal go to lure: the fat Albert grub.
After a few casts and retrieves into the channel, something serious hit the grub. The voice of Reed, my pro bass fisherman nephew, mysteriously spoke to me saying, "Set the hook, Uncle Jeff! SET. THE. HOOK!" So I did. And a few minutes later, this is what I pulled from the channel: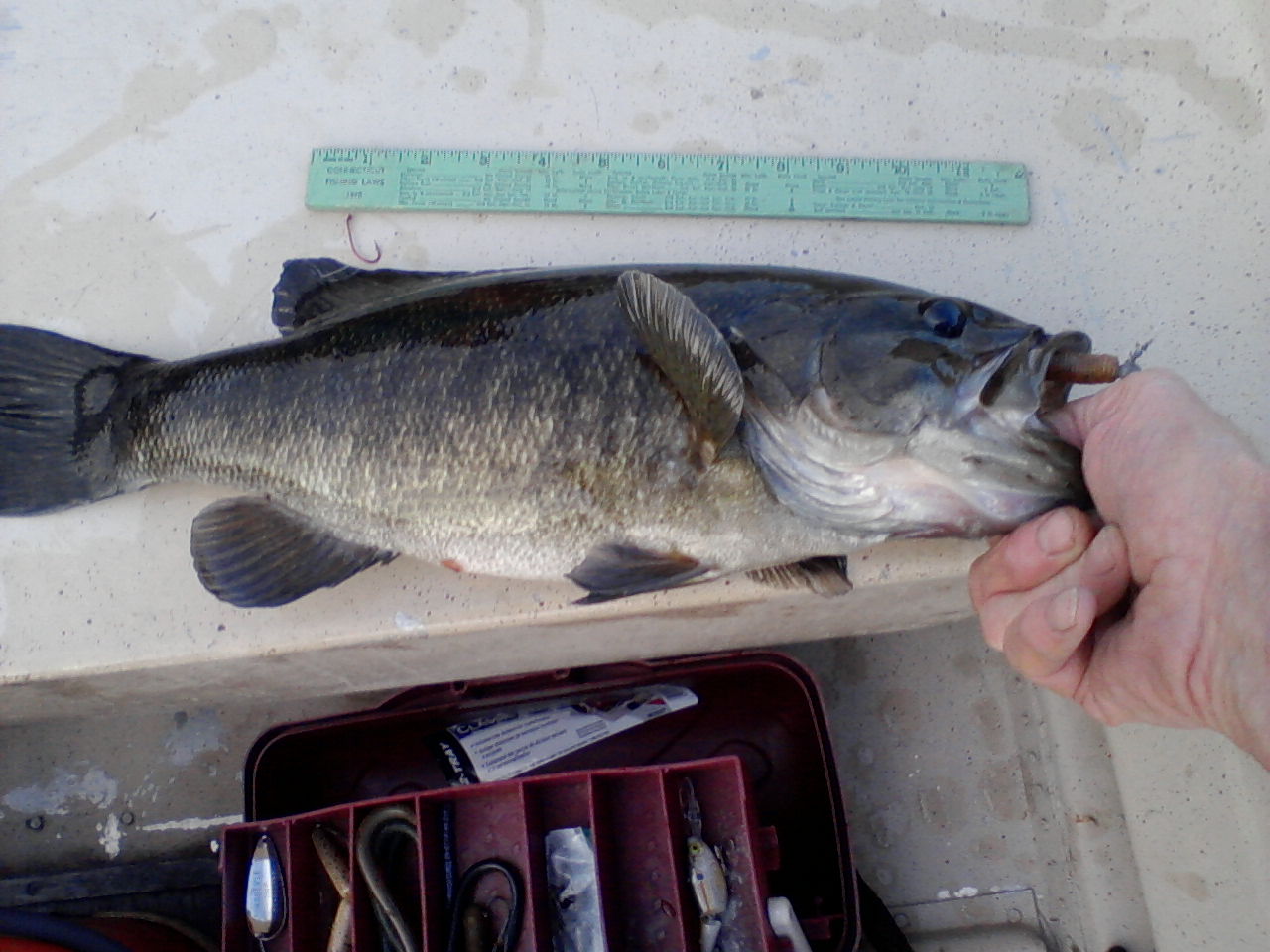 Ray estimated the catch as a three or four pounder - an appraisal I didn't contest. So this year's $28 non-resident, one week, fishing license turned out to be a far better investment than last year's.
And after catching that lunker smallie, my ADK fishing for 2014 was complete. I was a happy, content man and felt no desire to up the ante. Any fishing thereafter was strictly just for fun.
Here is my ONLY catch during camping 2013: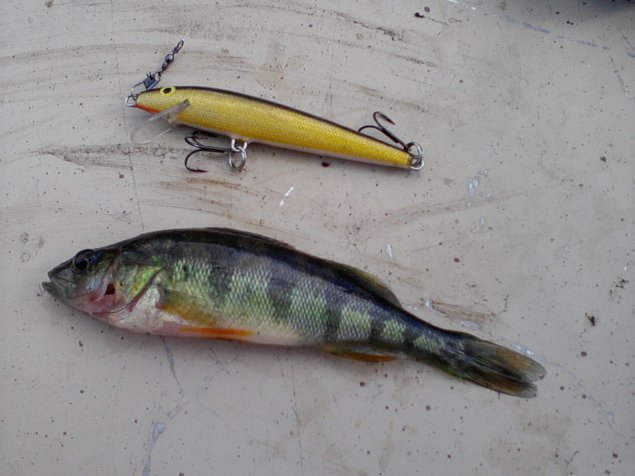 Note that the Rapala lure is 3-1/2" long..."
Returning home from one fishing excursion, the sunset was beautiful, though the photo doesn't capture it quite as vividly as I saw it. I actually turned The Arturo around to snap this shot - it's just not the same without the bow of the boat in the picture!
Doesn't it look like the setting Sun burned a notch in that mountain?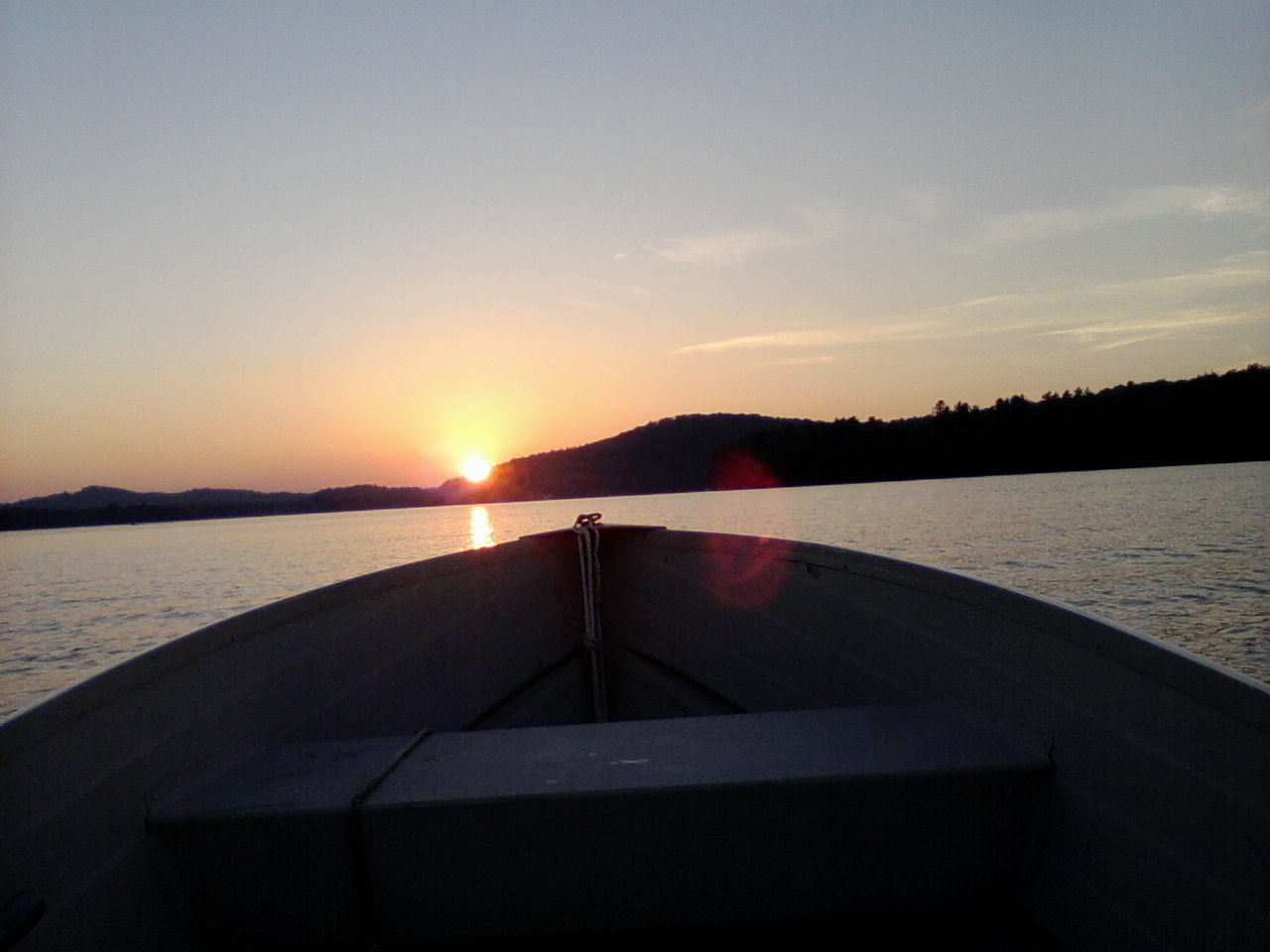 Some camping culinary delights:
Prepped dinner: some butter, cherry tomatoes and sliced zucchini fresh from my parents' garden, salt, and pepper. Couldn't be much easier.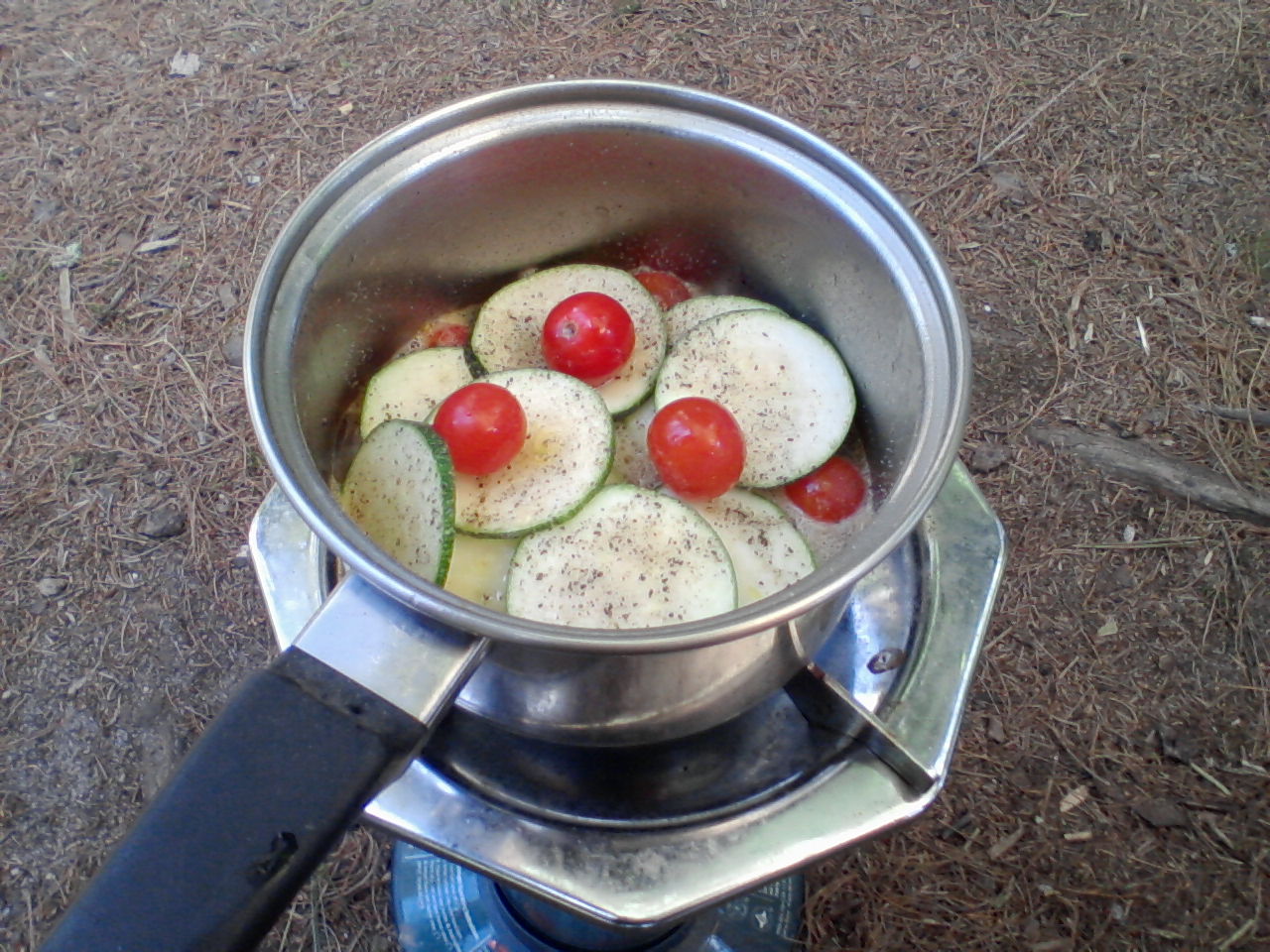 And after a longer than expected cooking time, dinner is served! Zucchini on the left with some canned tuna on the right. Incidentally, that "spork" has served me well when camping. So much so, in fact, that it didn't bother bringing a conventional fork or spoon this year. The spork and knife blade of the Leatherman were all I needed.
Here's a quick meal that tasted much better than it looks: it's canned, corned beef hash from Aldi "doctored up" a bit with generous strands of string cheese (mozzarella).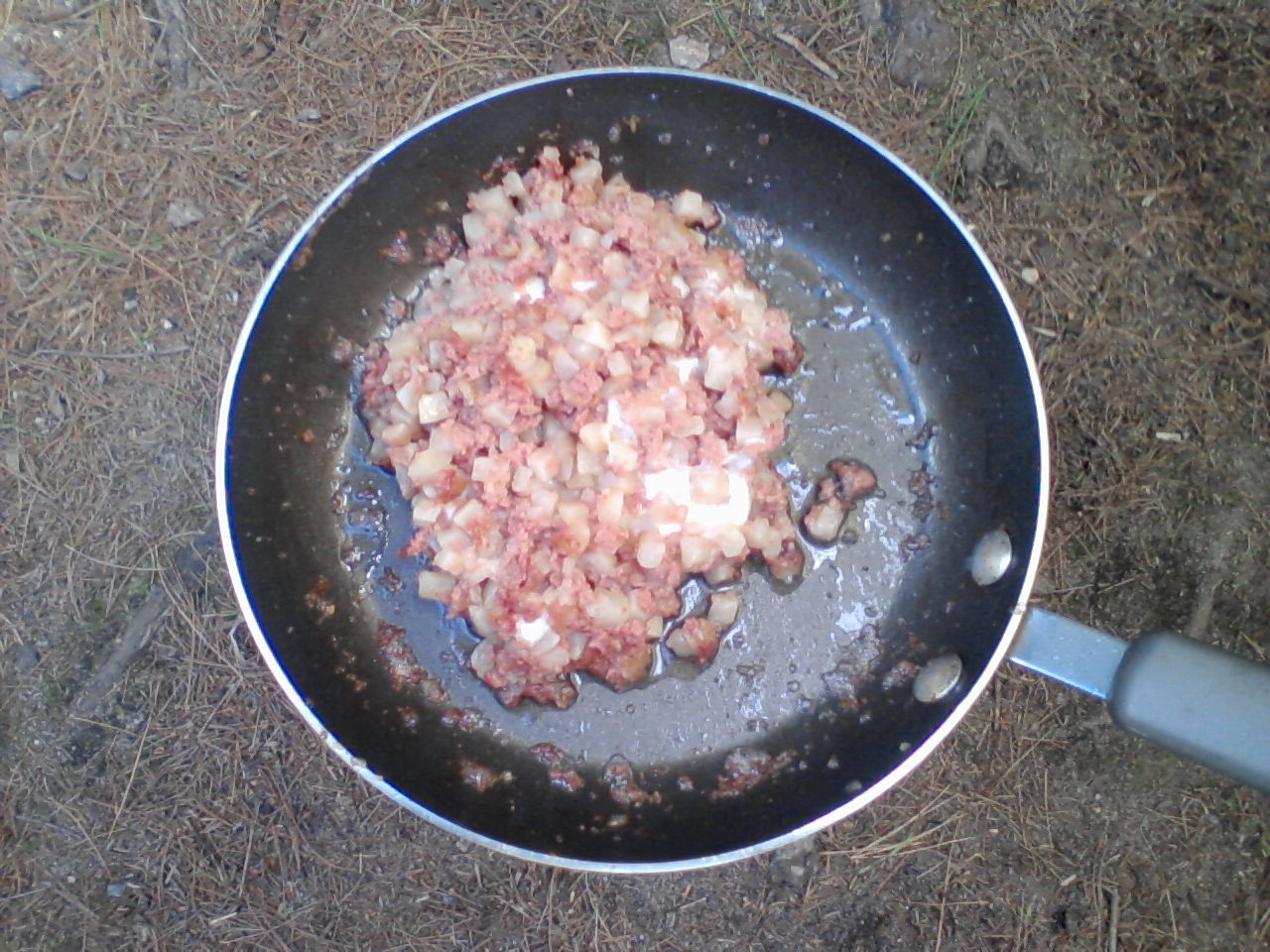 This single lane bridge goes over the channel that connects Sixth and Seventh Lakes in the Fulton Chain of Lakes.
After an hour of so of fishing Sixth Lake proved to be unproductive, I decided to head back out into the more expansive waters of Seventh Lake and fish there. As luck would have it, a car was traversing the channel, so I snapped this shot in the hope of appearing to be a clever photographer.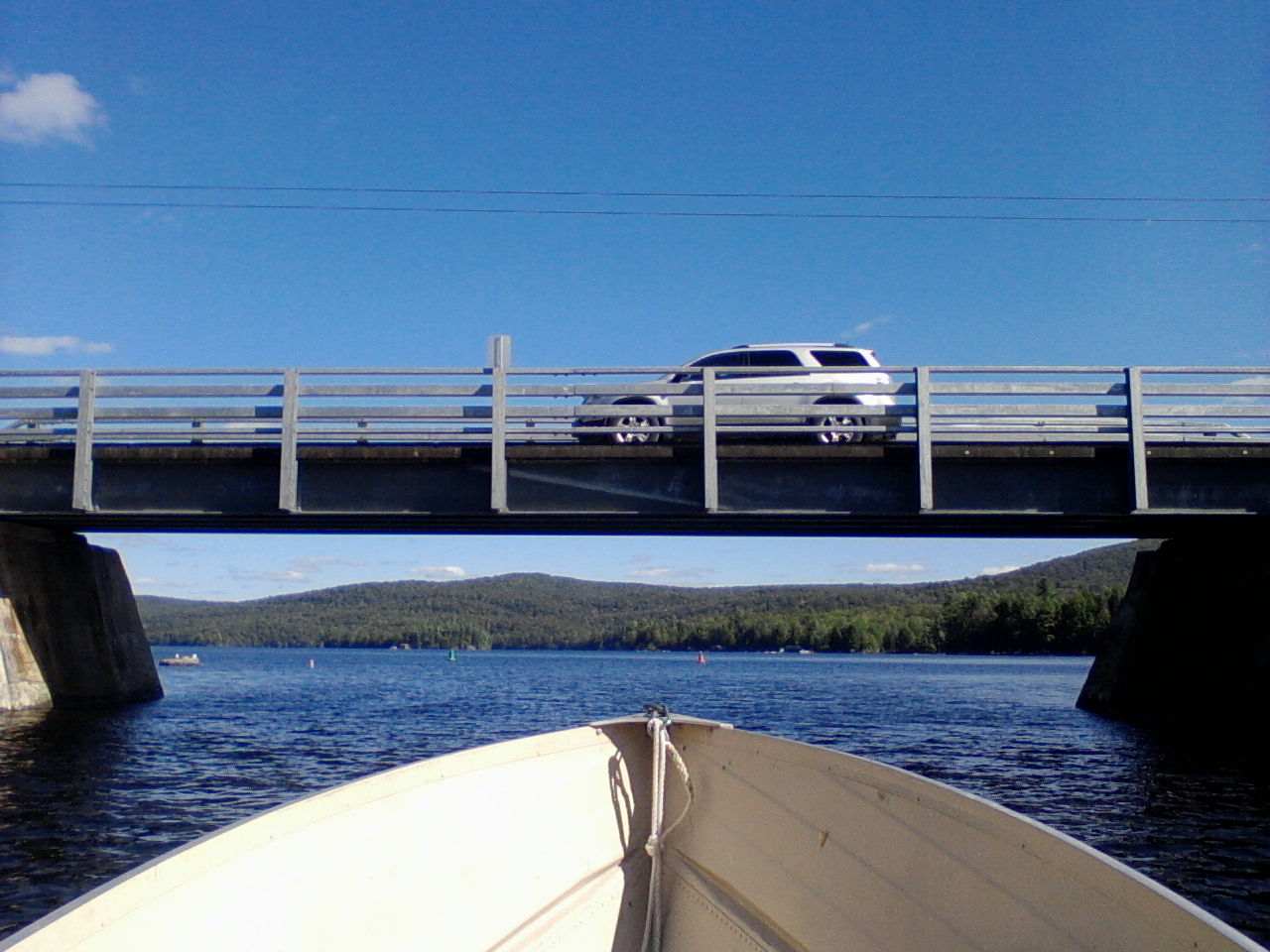 During one of my rare trips to town, I was going to grab a cup of coffee and a pastry, however the Tamarack was closed that particular day. Check out their awesome, intricately hand carved door: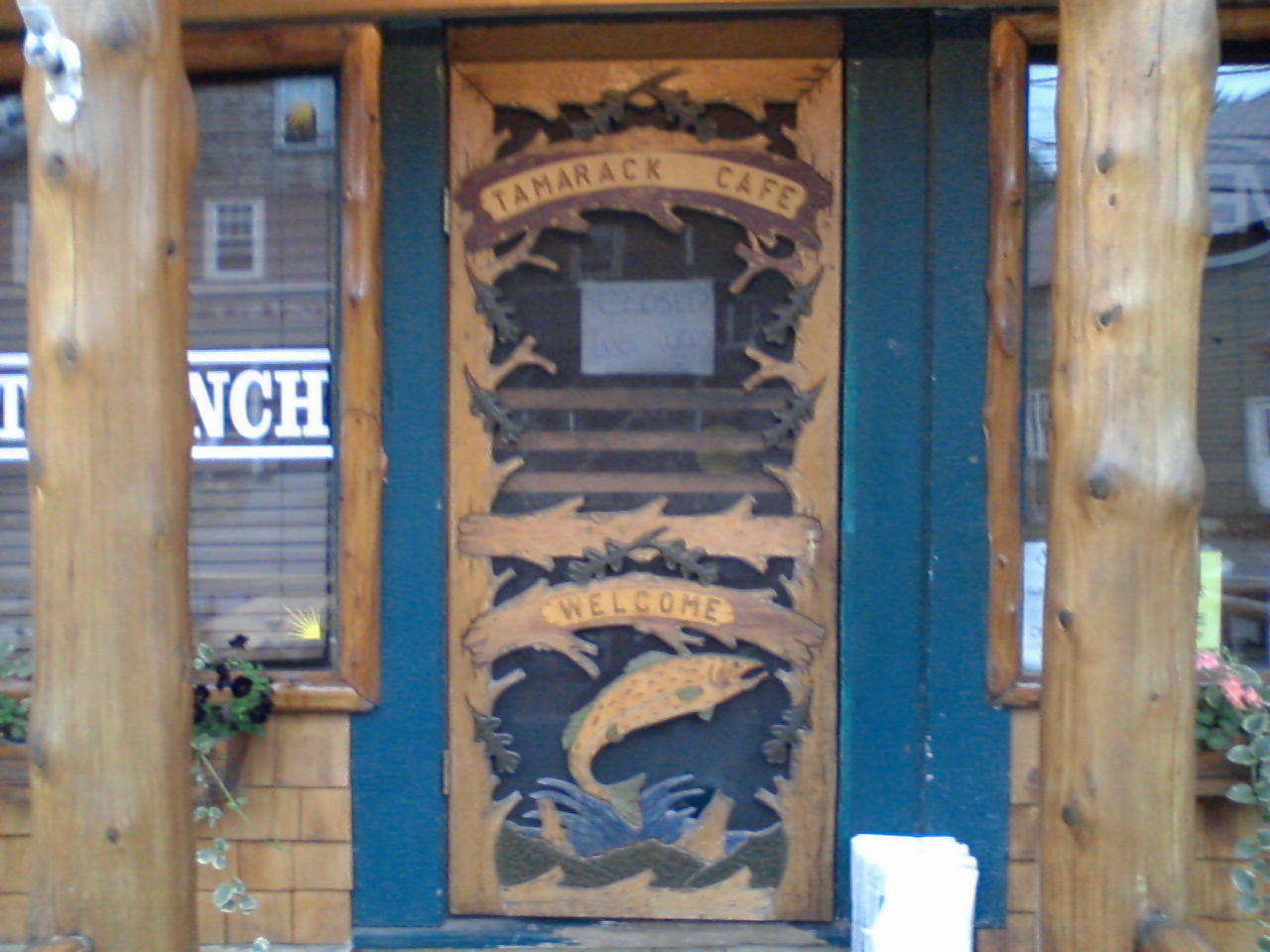 Across the street from the Tamarack is Arrowhead Park. As the song of the loon catches my ear, this folk art sculpture of a loon and hatchling at the park caught my eye: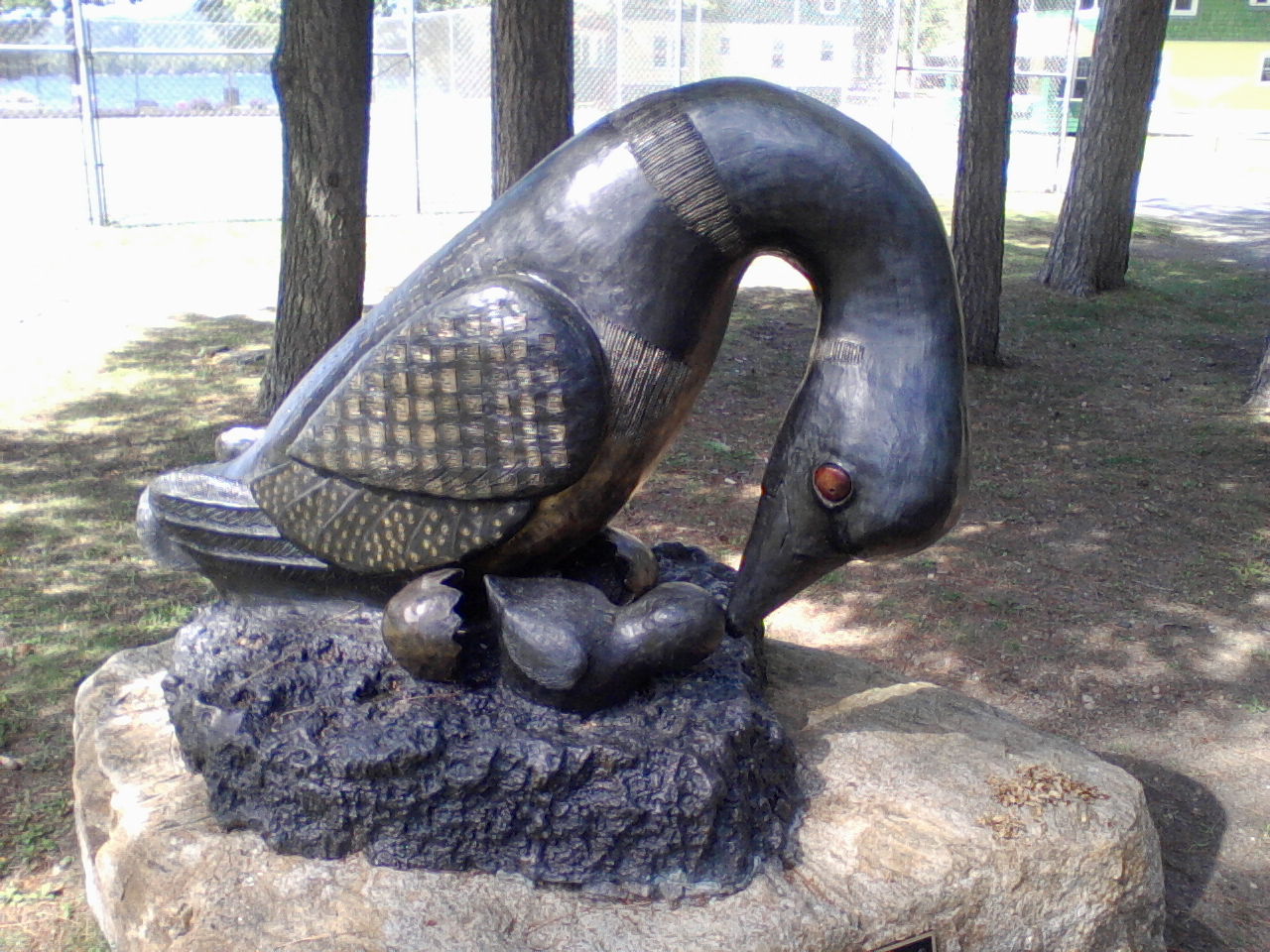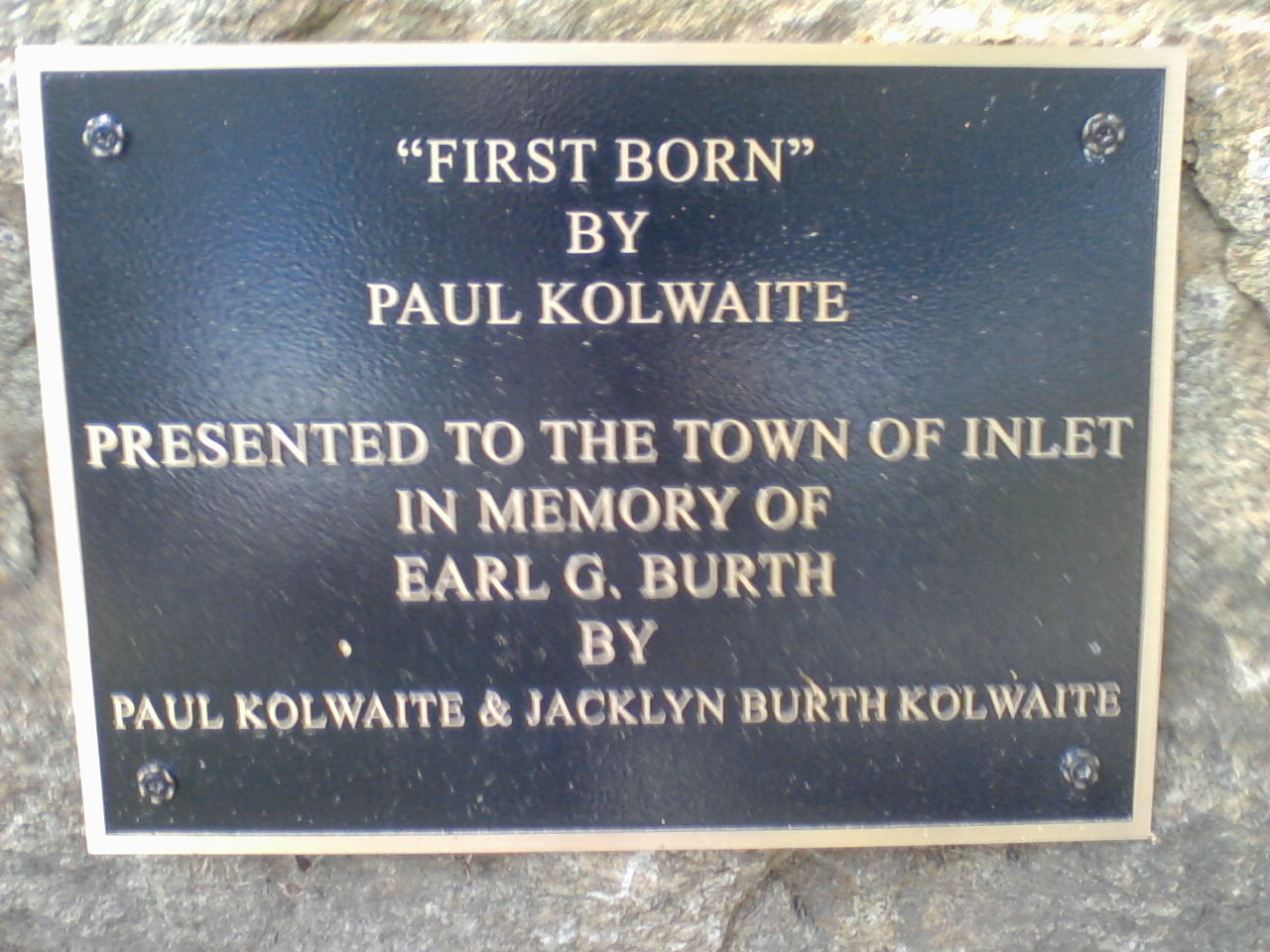 Monday the 8th was the last chance day for the annual pilgrimage to Raquette Lake and some special places on the lake. Someone was looking out for me, as the weather couldn't have been much better.
Here's the W.W. Durant moored at its berth. What a beautifully maintained old gal!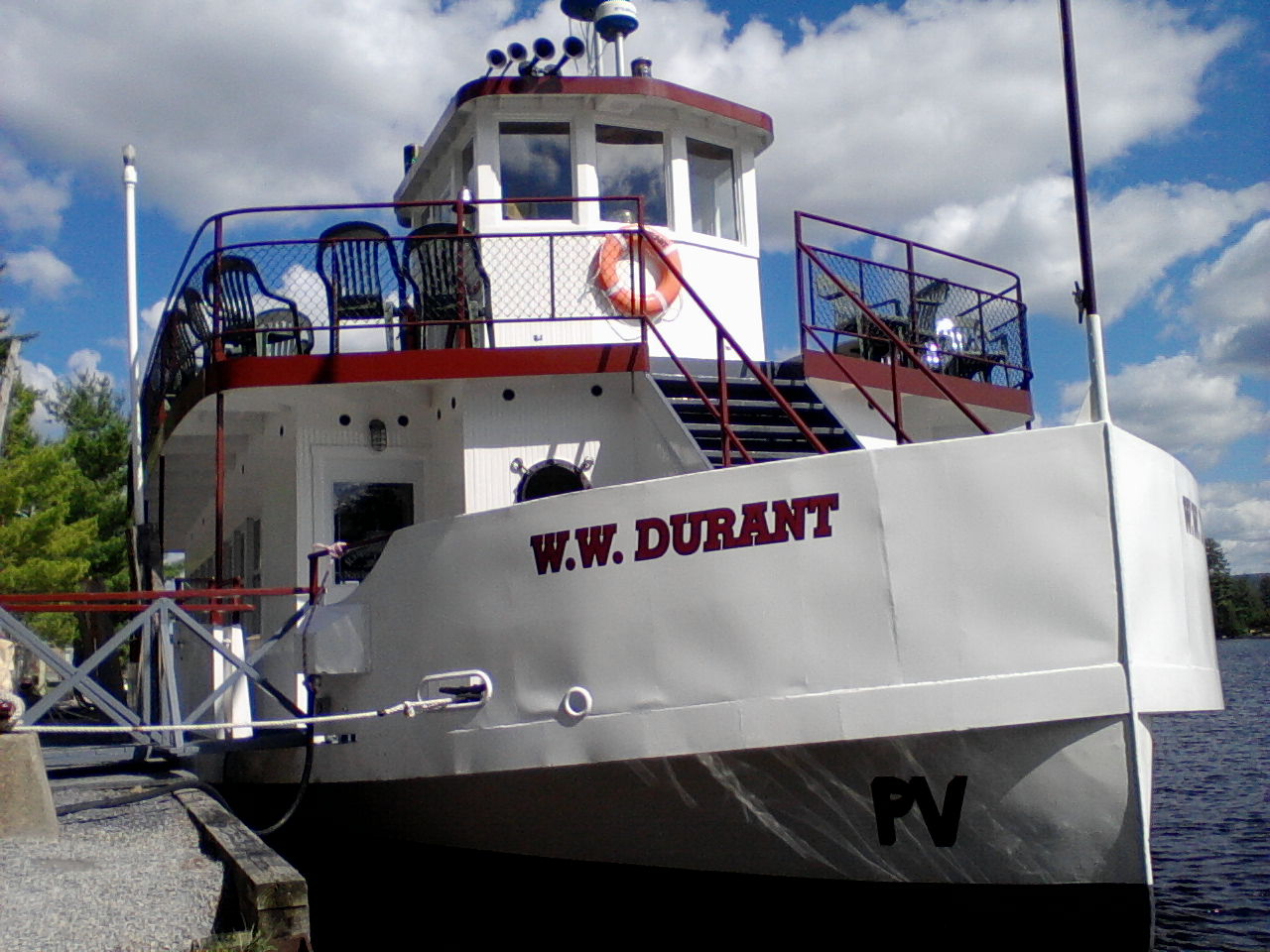 After grabbing some lunch at the Tap Room, it was time to head out on the lake and over to my Uncle Bob's old camping haunt on Clarke's Point. Here's a shot from The Arturo headed straight at Strawberry Island off Antlers Point.
The two predominant, neighboring peaks are Pilgrim and, ahem ... Niggerhead Mountains.
Sometime between 1954 and 1997 editions of USGS maps, the name Niggerhead had been removed - probably by some hyper-sensitive type employed by the Politically Correct Police...
However, I'm happy to report that Niggerhead Mountain is still where it has always been, steadfast and defiant of cartographic cleansing.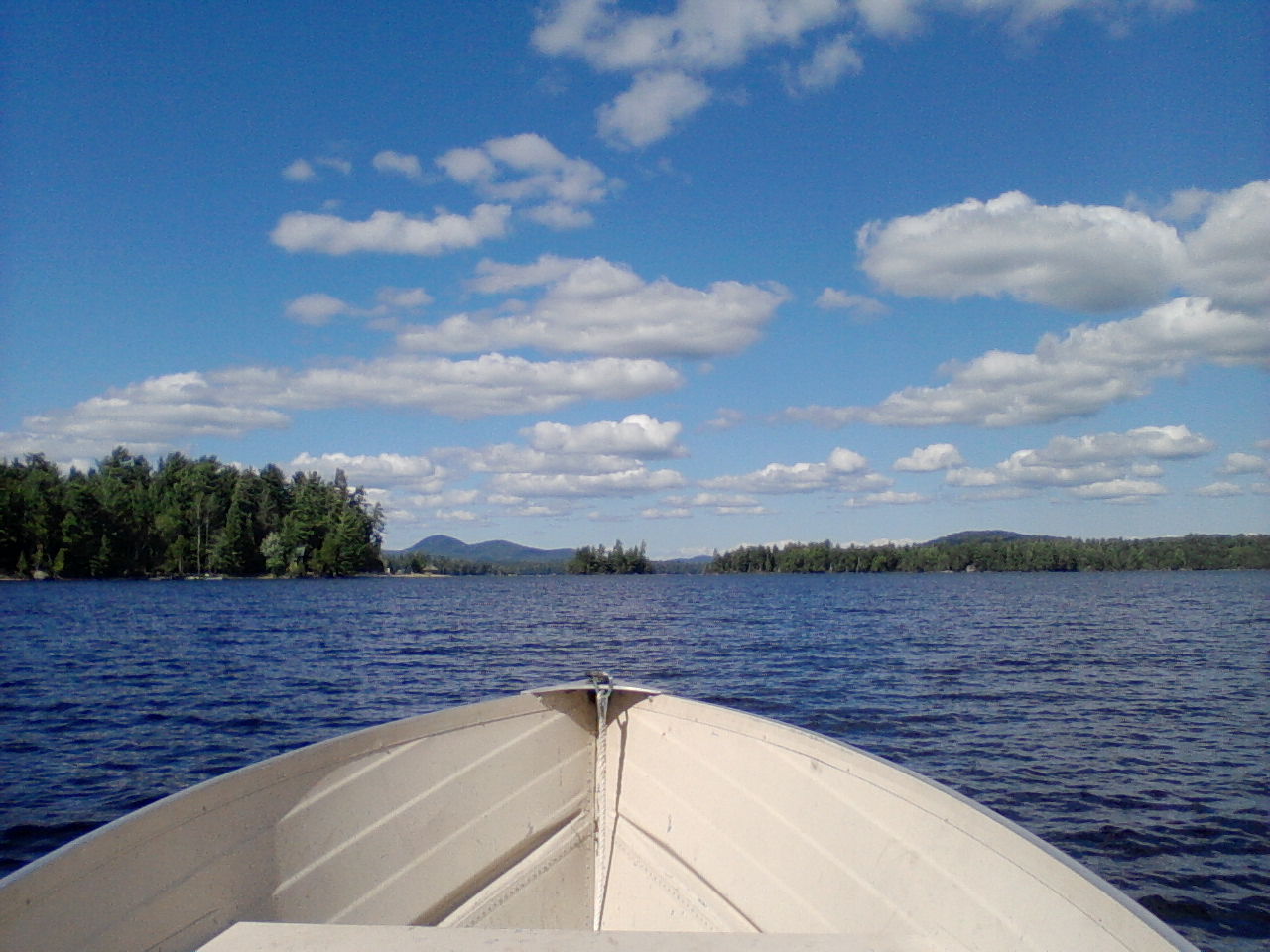 This next photo is definitely one to float your cursor over and click to enlarge. Though the camera function of my inexpensive cellphone does a decent job for some things, it really doesn't do this particular image justice.
Now imagine this: you're looking nearly due east. The predominant peak on the horizon is Blue Mountain. When the sun rises in the morning, you're seeing it in all its glory.
And that's the view from my Uncle Bob's campsite. No wonder he kept returning year after year after year.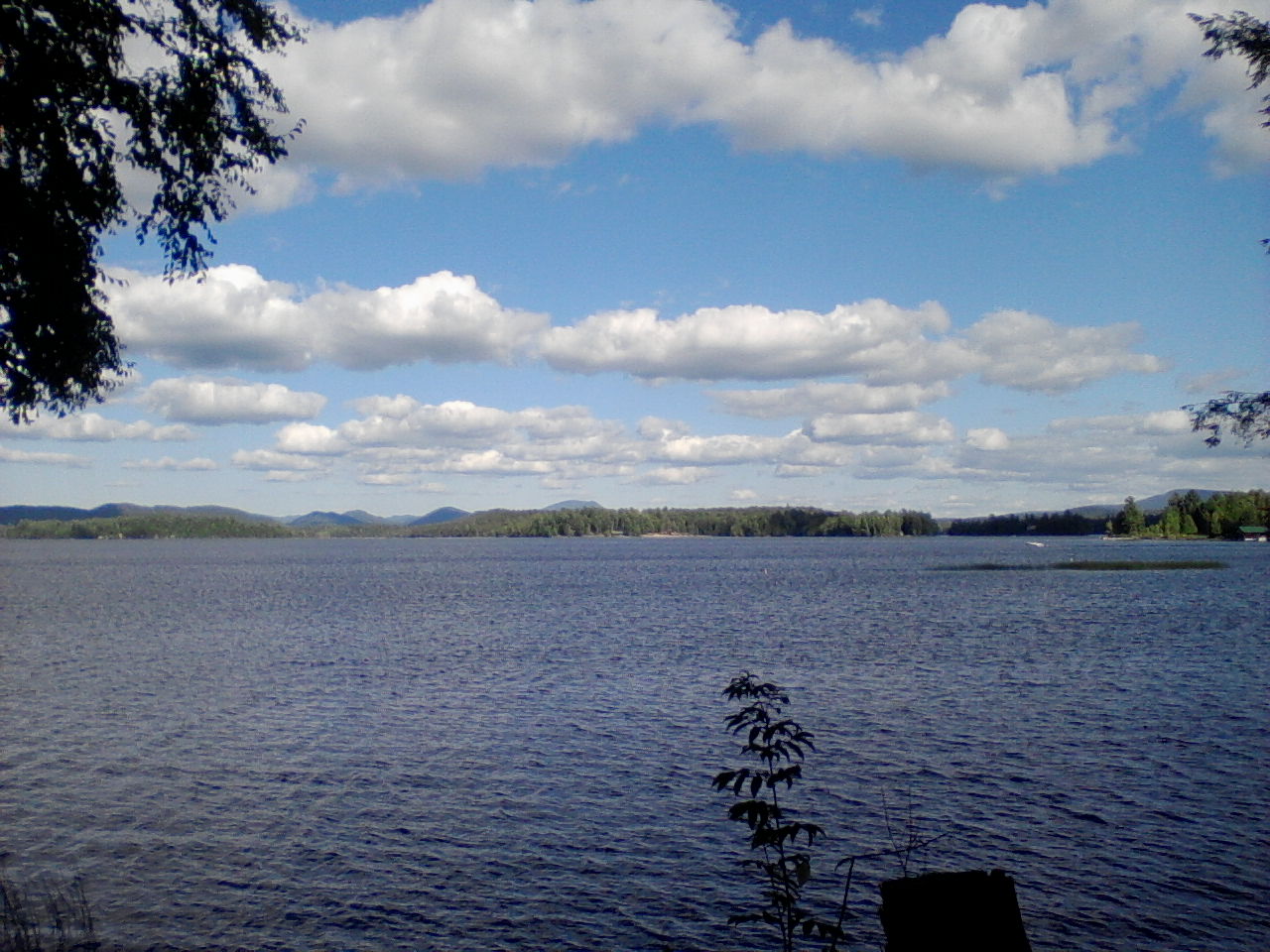 Once again this year, upon arrival at Clark's Point, the old campsite was occupied by Bill Kennedy - longtime friend of my Uncle Bob. Though my uncle is at the age where he can no longer comfortably make the annual trip to the Adirondacks from his home in Virginia, Bill carries on the fine tradition - sometimes solo and sometimes with friends Cliff and Alvin.
"I saw the boat come around Antler's Point and head this way, and I wondered if it might be you," Bill quipped. With old Blue Mountain line-of-site, I decided to give Uncle Bob a call on my cellphone. After both Bill and I talked with Uncle Bob, we then sat back and swapped yarns, complained about the fishing, and considered tentative plans for camping next year.
After bidding Bill Kennedy farewell and happy camping, I took The Arturo past my grandmother's former camp on Indian Point, then past the former camp of Bill Pohl, W2TRK, a hesitant bearing through the navagation bouys by Needle Island, and out into the expansive North Bay.
Fortunately the wind was light, so the waters weren't too rough - which can be problematic for smaller aluminum crafts such as mine. I was able to do a full tour of North Bay, which was a special treat, as last year I only made it about a mile into the bay before having to turn around due to the huge chop on the water. And prior to last years attempt, the last time I had been out in North Bay was (gulp) 45 years ago...
The only mishap in North Bay was my BAUER UNIVERSITY hat catching a gust of wind, flying off my head, and into the drink. The same thing happened last year after coming out of the Marion River and into open water. Last year I was able to quickly retrieve the hat; this year I wasn't quite so lucky. I missed snagging it on the first pass and by the time I got around for a second pass, it had sunk into the cold, deep waters of North Bay. My only solice in that loss was that my hat now resides with a boat of Uncle Bob's which sunk after striking a rock back in the 50's. That's a story for another time.
The next shot is in open water headed toward the mouth of the Marion River. That's a good view of the majestic Blue Mountain. Back in the mid-60's, Uncle Bob took his two young children, my sisters, and me on a full day canoe (actually TWO canoes) trip from Nana's camp on Indian Point, across Raquette, up the Marion River, out of the water for a short carry to Utowana Lake, then Eagle Lake, and ultimately Blue Mountain Lake. It was quite the adventure. We all slept well that night!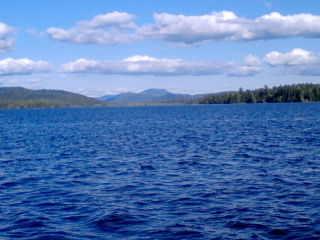 My Uncle Bob refers to this as the "Halfway Pine" marking the halfway point up the Marion River. Although I believe that in reality it's more like the two-third or three-quarter pine, I'm not going to argue that point with Uncle Bob. I know better than to debate that one.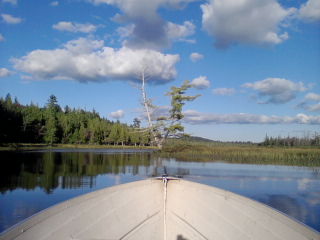 A nice Marion River "leaner."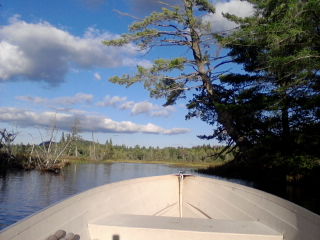 It seems like these leaners wanted to form an archway of some sort. At least it does to these eyes.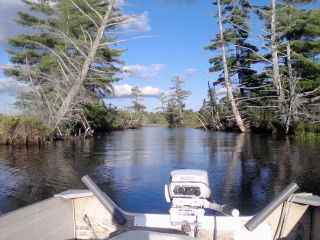 This is Raquette Lake's Harding Island viewed from from the boat launch in the village.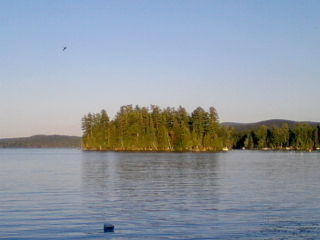 After wrapping up my Raquette Pilgrimage 2014 and extracted The Arturo from the lake, I spotted this beautifully restored Chris Craft tied to the town pier. The owner, sporting an obvious attitude, and two antique boat admirers in tow showed up after obviously tipping more than a few frosty cold beverages at the Tap Room.
What a grand, old beauty this Chris Craft is! It reminds me of the Chris Craft that my father had when I was just a youngster. Oh how my father toiled over that boat, "Toots." A true labor of love! It must have broken his heart when he eventually sold it.
If you "click to enlarge" and look carefully between the bow flag and spotlight on the Chris Craft, you can see the faithful PT Cruiser and Arturo at the boat launch.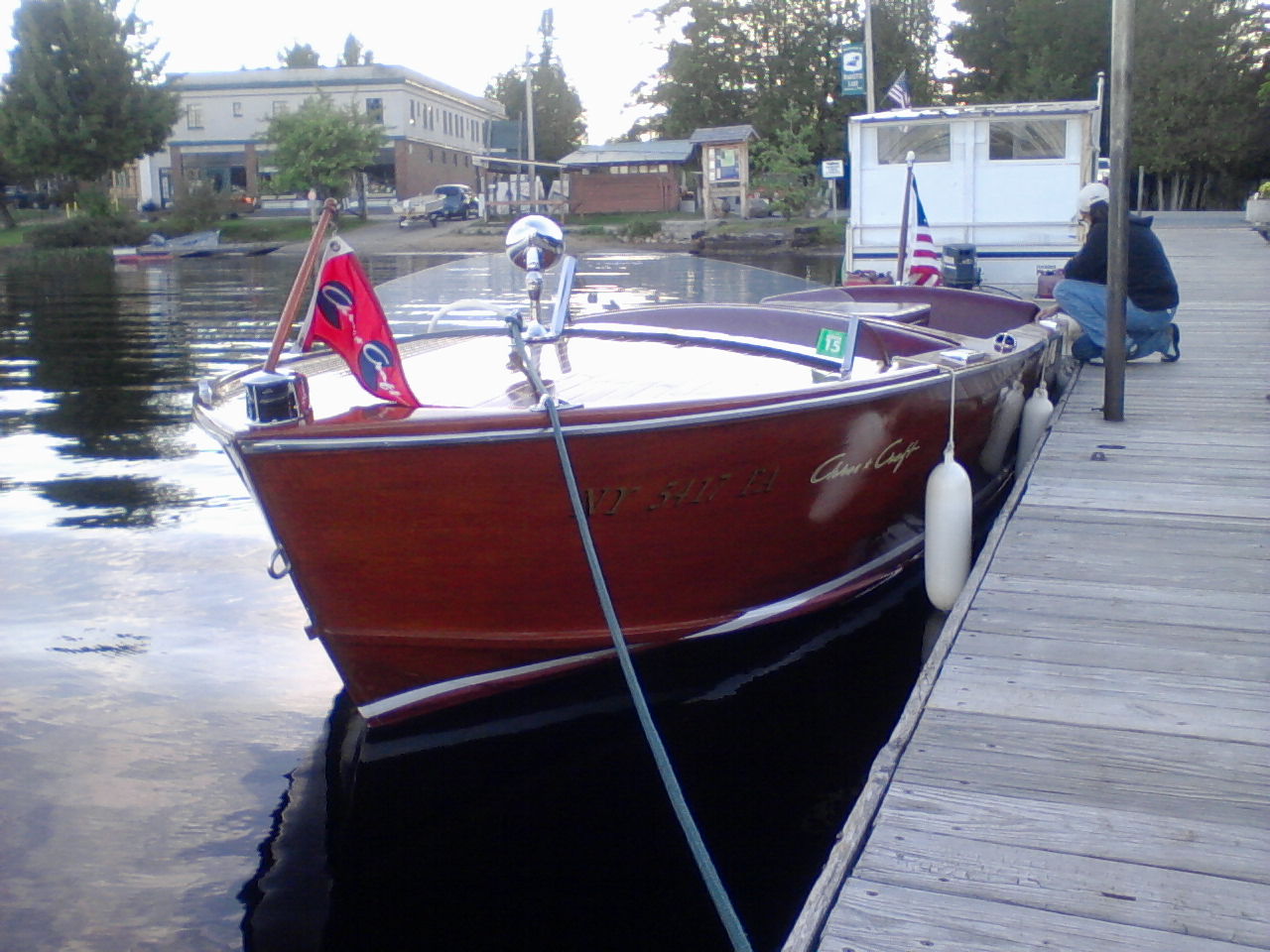 While squatting down to take a transom picture of the boat, the owner (with the attitude) appeared to rush to fire the old Chris up. The picture tells only part of the story, as I was able to catch the blast of water jacket coolant infused exhaust from the tailpipe of the boat mid-blast.
Post-blast found your faithful photographer soaked and none too pleased. The owner (again, with the attitude) clearly knew what was about to occur when he started the engine up. Anyway, he beat a hasty exit from the town pier, which is probably a good thing.
I will remember this, though, just as I remember what he looks like. Perhaps karma will catch up with him before I do - it would be better for both of us.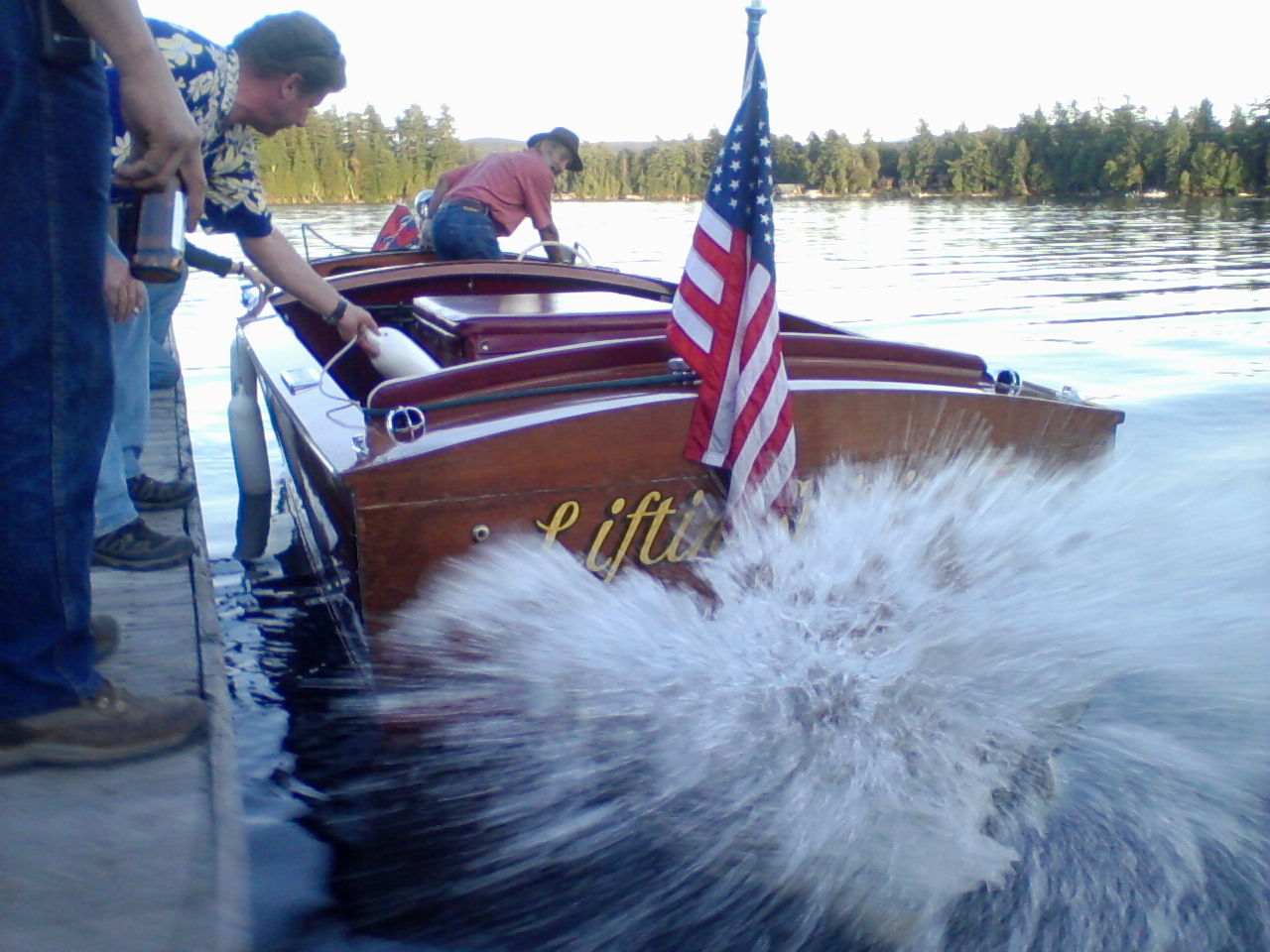 With Monday's annual pilgrimage to Raquette Lake finished as daylight was drawing to a close, it was time to head back to camp. However, I just had to bid Blue Mountain adieu from the bridge over Browns Tract Inlet.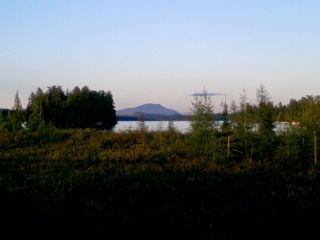 And that concludes this year's general Adirondack e-travelog - my small way of kinda/sorta taking you along with me on vacation after the fact. I trust you've enjoyed the trip, albeit vicariously through this webpage.
I've made a note to myself for next year to take some pictures of people; not just places!
Plans are to work on a posting about ham radio related ADK vacation activities. Check the home page for updates, or the posting's ultimate location, in the Radio Matters section.
Oh yes, before I forget:
At perhaps 3 A.M. the other morning at work, I had just finished my hourly inspections and record keeping on the parts I was making. Leaning back in the chair and moving my glasses up over my brow, I closed my eyes to give them a little break from the glare of the lighting and strain from part inspections.
And I immediately thought of and envisioned the view from the shoreline of site 114.
Incredibly loud clanging of something metallic crashing instantaneously transported me from site 114 back to the factory. It was a very quick commute ...
A co-worker had meandered by, noticed my position, and thought I had fallen asleep. So he did the normal thing to do, at least in the factory world: toss something in the air that will make the most cacophony when crashing into the ground directly behind the worker suspected of being comfortably nestled in the arms of Morpheus.
Oh how I wish I was back in ADK. It's going to be another long year ...
---