Adirondack Vacation 2013
a weeklong escape from the madness
Here are the photos of my vacation in New York State's beautiful Adirondack Mountains. Unless otherwise noted, the photos were taken by me using the camera function of a cheap LG 430G cellphone. I fully accept blame for the fuzzy, out of focus pictures. A steady hand would have helped...
An interesting change in usage of a building in Wevertown heading into the mountains.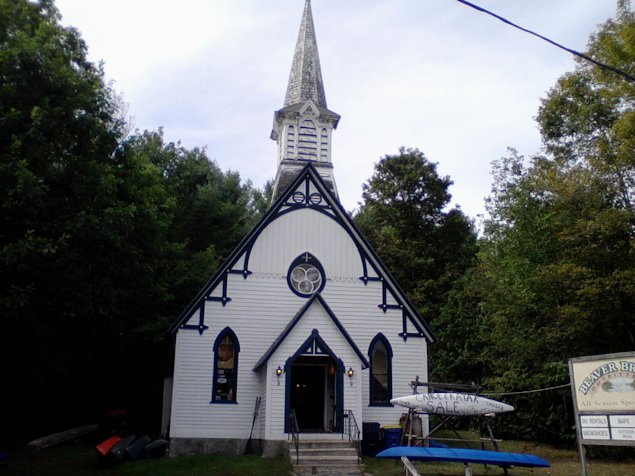 Almost there! Blue Mountain with its cloud-shrouded summit and Blue Mountain Lake from Route 28 headed towards Inlet. Ever so brief cellphone coverage here allowed for a quick call home to say "All's well. Five miles or so from the campground!"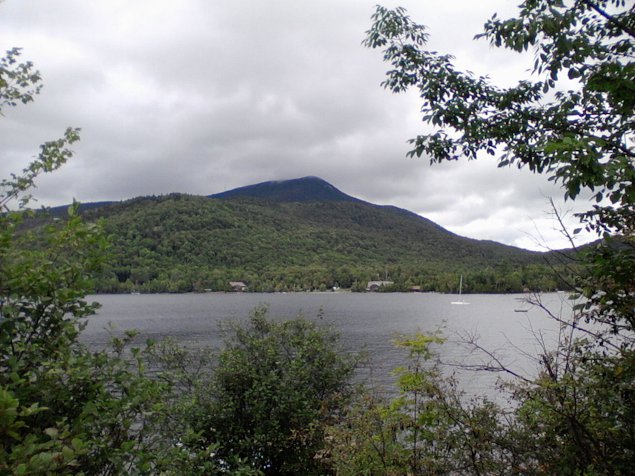 This next one is interesting and deserves some explanation and history.
The large tour boat is the W.W. Durant, skippered by Dean Pohl of Raquette Lake Navigation. RLN has a webcam atop a pole on their gift shop, which is housed within a railroad caboose! The car with the driver's door open is my 2003 PT Cruiser, which is hauling The Arturo. I'm the guy in the shorts and white tee shirt, cellphone to ear, coordinating the webcam photo op with my very good friend Sharie, who is in southern Florida. Sharie is a native New Englander who also vacationed with her family at their camp on Third Lake. And her father is an amateur radio operator of considerable renown. It gets so complicated...
I also called my parents and told my father to fire up the computer and check out the Raquette Lake Navigation webcam. heh. New millenium technology in the Adirondack wilderness. Go figure.
Back to the Durant: I met Dean back in the mid 60's. Yes, the 60's. Our family vacationed out on Raquette Lake's Indian Point at my grandmother's camp. Dean's father, Bill, was a kinda/sorta neighbor, as he lived probably 3/4 of a mile or so down the Point.
In the summer of 1969, I was nervously studying for my novice class amateur radio license test. Grandmother "Nana" informed me that Bill Pohl was a ham radio operator. How she knew of this I'll never know. She introduced us and Bill was kind enough to invite me down to his camp to see his gas generator powered ham station and take some Morse code practice -- which I did nearly daily during our stay at Raquette.
Somewhere along the way, either Bill or Nana introduced me to Dean.
Back in Connecticut that very fall, I passed my novice test - much thanks to Bill Pohl's help with Morse code practice. And I even got to chat once with Bill on the air using Morse code!
Oh yes - Bill was W2TRK. And I was WN1MBK, then WA1MBK, then KE1HP, and now WN1MB.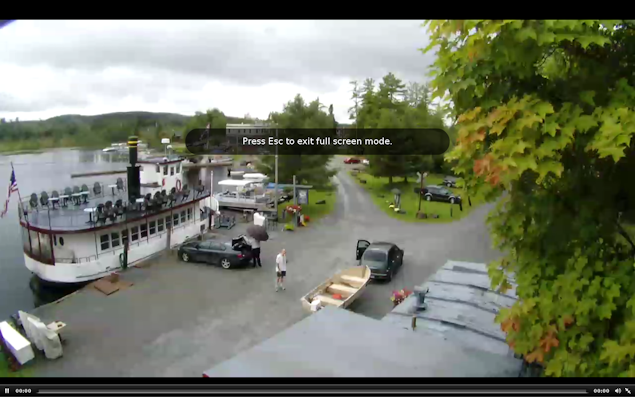 Screen capture and image manipulation - Sharie Cohen
Memorial plaque for Monica Burke at the check in booth at Eighth Lake Campgrounds. Monica was a friend of Uncle Bob's and kept an eye out for Mom and Dad when they were staying at the campgrounds.
Camp set up at site 119 in the rain. Site 119 is right across the camp loop road from Mom and Dad's old site!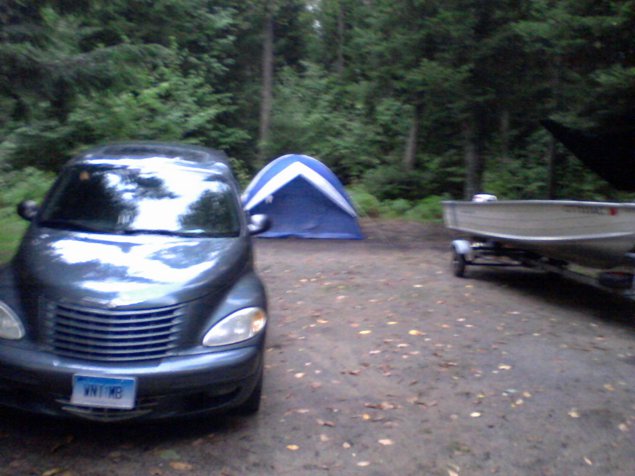 The mandatory tarp covered picnic table - a must for camping. Nobody wants to spend the day in the confines of a small tent if it's raining!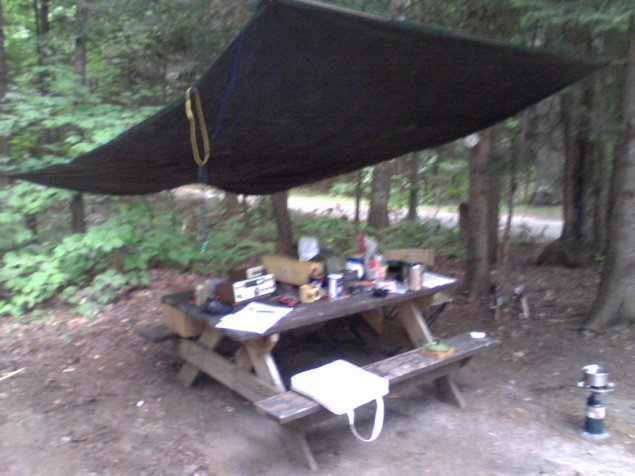 A closer look reveals that I played some ham radio while camping. The radio is an original Ten Tec Argonaut 505 made around 1973 ... and a very early one, at that: serial number 00036.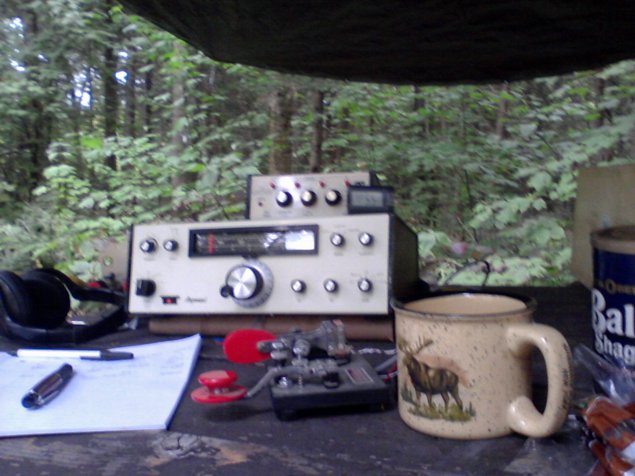 Oh, I did some fishing. $35 for a one-week, non-resident fishing license bought me this beauty - the only fish I caught all week! To give you an idea of the immensity of this perch, the lure is a Rapala F07 which is 3-1/2 inches long ...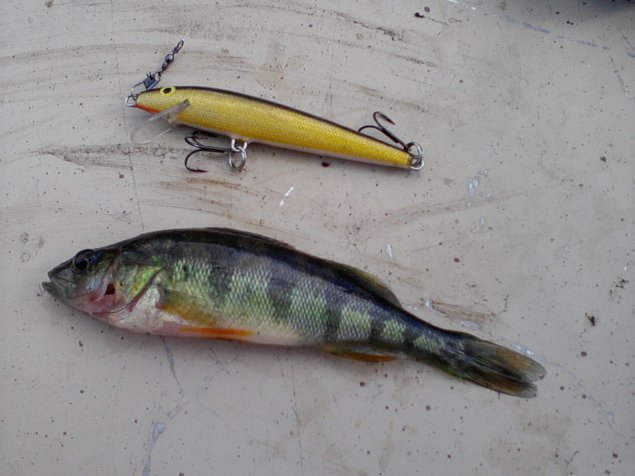 A wonderful shot of the big island on Seventh Lake, as taken from the scenic overlook on Route 28 about halfway between the campgrounds and Village of Inlet. It was 37 degrees that morning. BRRR!
The island ownership is 50/50 private/state. From the photos' vantage point, the left half is private - the right half state. On the far point of the state end is a nice campsite I'd like to stay at one of these years.
Rumor has it that a rather famous doctor owns the private half of the island. Famous, you ask? Yes, famous as he's supposedly the caridologist who cleared all the McDonalds and Burger King fat out of the heart arteries of one William Jefferson Clinton.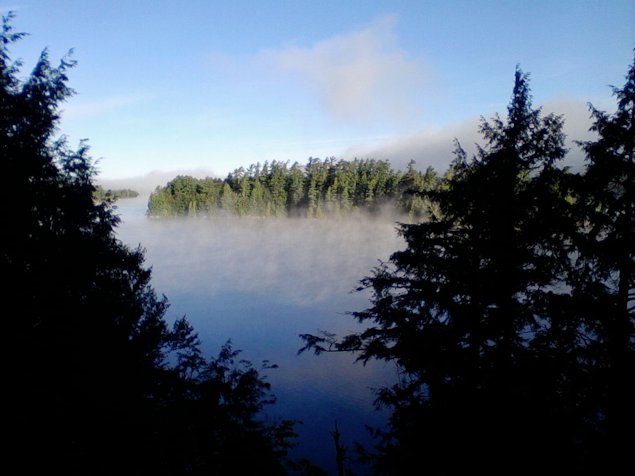 Another shot of the big island: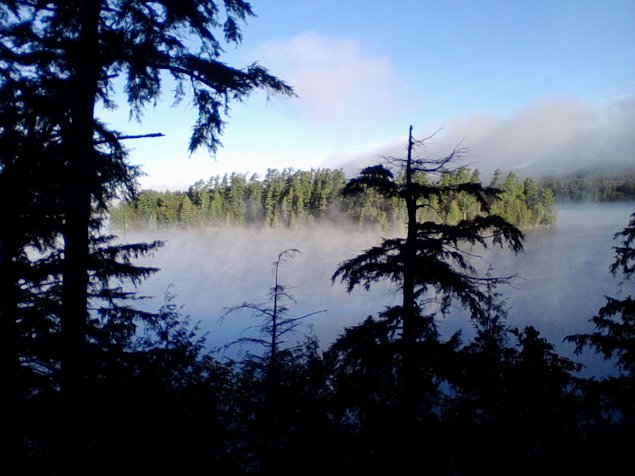 An amusing store sign for a second hand shop in Inlet.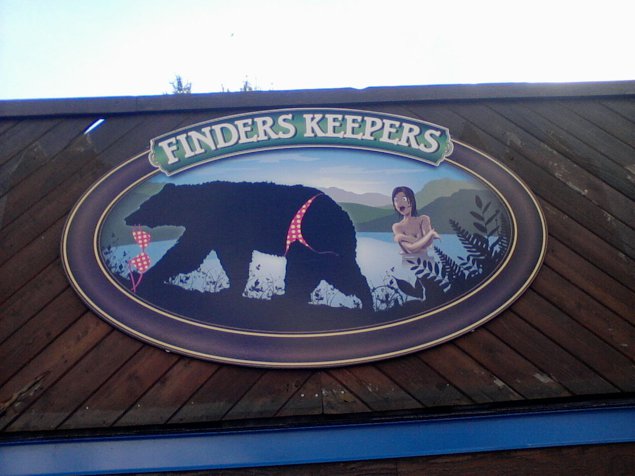 Ducks greeting me and The Arturo upon returning from a fishing trip.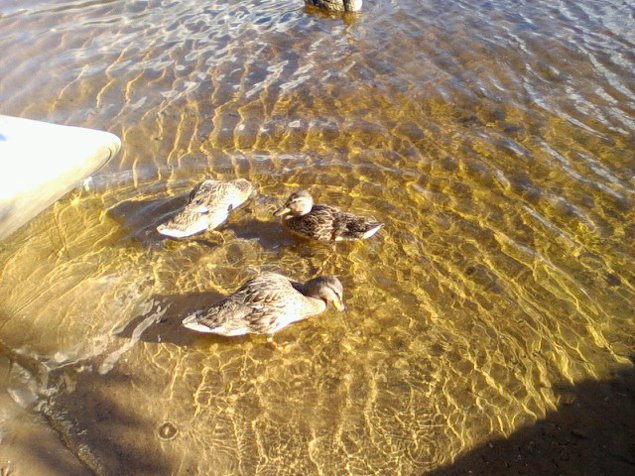 Prior to visiting one of my Uncle Bob's camping buddies out on Raquette Lake's Clark's Point and the requisite annual run up the Marion River, I couldn't help but do my best to have the The Arturo impersonate the W.W. Durant.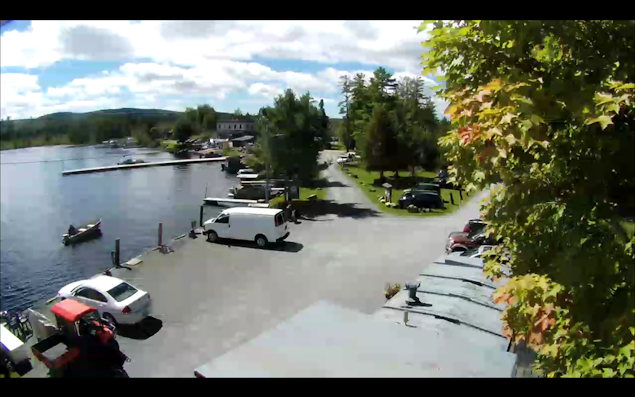 Screen capture and image manipulation - Sharie Cohen
The bow of The Arturo on the return trip headed down the Marion River - a tributary of Raquette Lake. Stunningly beautiful!
The unshaven skipper of The Arturo - again, on the Marion River - slightly downstream from the previous picture.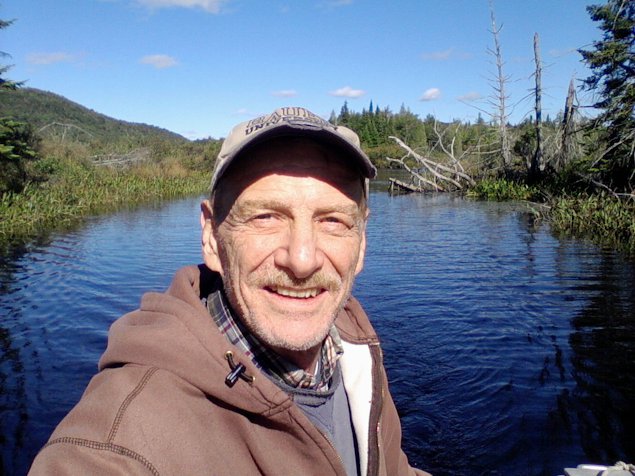 And that's it. Sorry there aren't more. Perhaps I'll be a little better prepared during the 2014 Adirondack adventure!
---