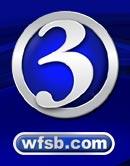 an open letter to: WFSB television



I'm completely fed up with WFSB for a number of reasons; one of which is a recent on-line poll question posed to subscribers to their news update mailer. The following is what WFSB deemed worthy of their Sports Final Question of the Week:

This week on Sports Final we ask:

What is wrong with Tiger Woods? He finished 11 shots off the lead at the Masters and hasn't won a major in his last 7 tries?

Is it the beautiful new wife?

Is he not the same after ending his relationship with swing coach Butch Harmon?

You tell us what you think by emailing us at sports3@wfsb.com

Include your first name and your hometown. We'll read some of the best responses on Sunday's Sports Final

And here is my reply:




"What is wrong with Tiger Woods?", you ask. The answer is obvious.

Contrary to how the fawning sports media have portrayed this obviously talented golfer, Mr. Woods is member of the human race, and therefore mortal. As such, he is not immune to human traits, some of which have been on display in recent matches. Mr. Woods is simply "off his game."

For WFSB to also ask: "Is it the beautiful new wife?" is not only a low-rent spin that panders to the lowest common denominator in your viewing audience, but also lowers WFSB to that level.

-Jeff Bauer




I didn't bother to see whether or not my reply was read over the air, as I don't have the stomach for being bombarded by network television commercials and local affiliate on-air personality's idiocy.

And just this past week I've unsubscribed to the WFSB mailer after a recent e-mail exchange with "someone." You see, they didn't have the common decency to include their name on what can only be described as a lame, apologist reply to my e-mail. If they're not interested in maintaining accuracy on their website, I'll be damned if I'm going to subject myself to the sloppy work of their news copywriters and webmaster.

WFSB must mean "We Fucking Suck BAD" ...




---

E-mail:
alienjeff@charter.net
URL: http://alienjeff.net/openwfsbsports.html
Text - Copyright © 2004 by Jeff Bauer
Web Layout - Copyright © 2003-2005 by Off Frequency Productions
Revised - Wednesday, September 7, 2005