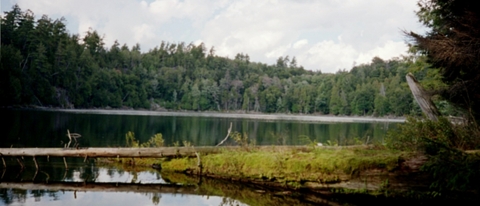 Expedition to Bug Lake
a year-long dream realized
Page Three
Not only were Eagle's Nest and Bug Lakes close to Eighth Lake Campgrounds, they were just over the hill and virtually right next door. Getting access couldn't be more convenient: the eastern trailhead was right on campground property, so there was no driving involved! I could get out of my tent, walk the campground road right to the trail, and then on to the lakes. It seemed tailor-made and almost too good to be true.
All this fueled the vacation planning fires through the long winter of 2007-2008. Frequent visits to topo map and fishing sites on the Internet further fed an obsession that refused to go dormant over the winter months. There was no hibernation.
fast forward
September 2008 rolled around right on schedule. As is the usual plan, on the day after Labor Day I was headed to the Adirondacks, only this year there was something different about it. For the past year, not only was I curious about the two lakes but had been consciously plotting an expedition of sorts. The five hour drive from Connecticut to Inlet, NY, took on more purpose this time around.
Lofty goals sometimes get knocked down to size by reality. Thus was the case with many of my plans. There were all manner of different things I wanted to do this year, but had failed to make anything other than mental notes of these things - which is always a dangerous proposition for me. So it was no surprise that on the last full day of my weeklong vacation there were still a number of places to go and things to do. Time, that ever precious commodity, was quickly running out.
After a noon time dinner, I found myself lamenting not getting to all the things I had wanted to. Certain things - hiking either Bald or Blue Mountain, for instance - were out of the question. So was hiking from Raquette to Inlet on the Uncas Road. One by one, items on my mental check list were getting mentally crossed out.
better late than never
It then occurred to me that I didn't want to wallow in "shoulda, woulda, coulda" all winter long this year. Bug Lake was only a three mile or so hike, which was comfortably doable in an afternoon.
"We're not talking Lewis and Clark here," I thought to myself.
So I grabbed my camera, fishing rod, note pad, and pen, and set off. I was about to see first-hand those two neighboring lakes nestled in the mountain wilderness that I had been thinking about for a year, investigated on the Internet, yet had only seen seen from the air!
---